Punjab polls | Curtain falls on Bains' 10-year run, brothers lose security deposit
Mar 11, 2022 01:37 AM IST
AAP leaders Kulwant Singh Sidhu and Rajinder Pal Kaur Chhina clean sweep Atam Nagar and Ludhiana South constituencies
Once revered as the defenders of the common man, the reputation of the Bains brothers – Simarjeet Singh Bains and Balwinder Singh Bains – took a severe beating over the years as rape and attempt to murder allegations, stilted development and violent clashes pockmarked their 10-year run in the assembly, ultimately culminating in their thumping defeat in the 2022 Punjab polls.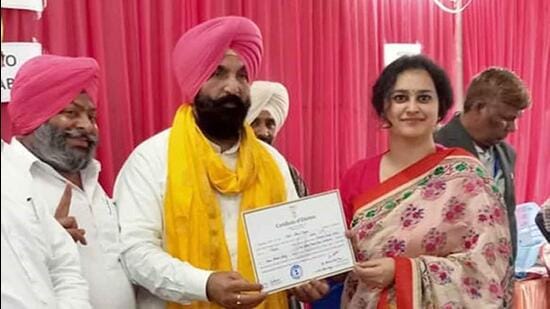 Relegated to the third and fourth positions in their respective strongholds (Atam Nagar and Ludhiana South), Simarjeet Singh Bains and Balwinder Singh Bains, mustered merely 12,720 and 11,906 votes, respectively, thereby forfeiting their deposits.
Stay tuned with breaking news on HT Channel on Facebook.
Join Now
They were vanquished with a considerable margin by Aam Aadmi Party (AAP) candidates Kulwant Sidhu and Rajinderpal Kaur Chhina, respectively.
Allegations of rape, and attempt to murder, lack of development in Atam Nagar, politics over installation of hoardings, and violent clashes with the supporters of Congress candidate Kamaljit Karwal during the election campaign not only cast a shadow on Simarjeet Singh Bains, but also spelled the downfall of his elder brother.
The woman, who had levelled rape allegations against the LIP leader, has been protesting against Bains outside the office of commissioner of police, which caused the tide to turn against the Lok Insaaf Party (LIP) leaders. Though Simarjeet Singh Bains has dismissed the FIR against him as politically motivated and fake, the damage was done.
Besides, the LIP had contested its last election with AAP, which had bolstered its vote bank, but this year the party failed to join hands with other political outfits. Bains' former aide Karwal fighting the election on a Congress ticket also cost him a large number of votes.
Interestingly, in Atam Nagar, friends turned foes, Bains and Karwal were seen as the primary contenders, but it was AAP's Kulwant Sidhu who enjoyed the last laugh with 44,601 votes. Karwal came in second with 28,247 votes, Simarjeet Singh Bains third with 12,720 votes, and SAD's Harish Rai Dhanda came fourth securing 7,120 votes.
In Ludhiana South, Balwinder Singh Bains was being seen as one of the strongest contenders, having won two consecutive elections from the constituency. However, in a surprising clean sweep, AAP candidate Rajinderpal Kaur Chhina emerged victorious with 43,811 votes, followed by BJP candidate Satinderpal Singh Tajpuri (17,673), Congress candidate Ishwarjot Cheema (15,604), Balwinder Singh Bains (11,906), and SAD's Hira Singh Gabria (11,243).
Voters say lack of development in Ludhiana South was the primary reason for Balwinder Singh's ouster.