Meet Punjab's True ShowMann
Mar 10, 2022 07:51 PM IST
At 48, Bhagwant Mann will be the youngest to helm the state since 1970 when 42-year-old Parkash Singh Badal headed a coalition government. As a rank outsider who cut his teeth in politics in 2012, Mann has come a long way in a decade before he got nominated as the party's CM face last month
From a popular comedian to chief minister, Bhagwant Mann's phenomenal ascent has no parallel in the annals of Punjab's politics. Hailing from a humble farming family of Satoj village in the heart of Malwa region, the Jat Sikh face of the Aam Aadmi Party (AAP) will be the first non-Congress and non-Akali leader to make it to the top job in the border state since 1966, when its map was last redrawn.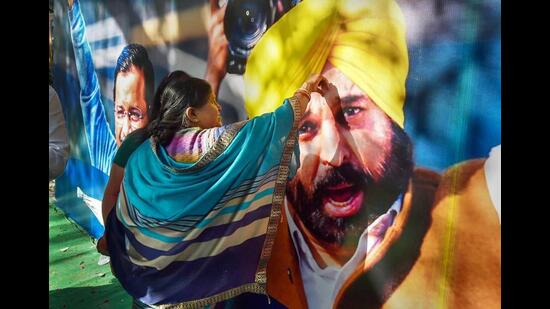 Also read: Punjab voted with vengeance, and decisively
Stay tuned with breaking news on HT Channel on Facebook.
Join Now
At 48, Mann will be the youngest to helm the state since 1970 when 42-year-old Parkash Singh Badal headed a coalition government. As a rank outsider who cut his teeth in politics in 2012, Mann tasted defeat in his first electoral outing and then won two Lok Sabha polls consecutively on the ticket of a rookie party, lost his second assembly contest in 2017 and got nominated as the party's CM face just before the assembly polls last month.
Mann's dream run peaked on Thursday as the AAP coasted to a spectacular victory.
It is tempting to attribute Mann's extraordinary rise to the coveted post to his remarkable political luck. In reality, however, it has been powered as much by the dint of his hard work and self-belief as by his assiduously cultivated credentials as a champion of Punjab's cause, both in Parliament and outside, and an avowed loyalty to AAP chief Arvind Kejriwal.
The secret sauce
Equally helpful has been his rapier sarcasm and an inimitable rustic charm – the key spices in the secret sauce of his previous comic avatar – that became his calling card and made him a crowd-puller since AAP's stunning Punjab debut in 2014 when it won four of 13 Lok Sabha seats. His folksy style and grassroots politics has not only been a huge asset for the party in positioning itself as a third alternative in Punjab's long-standing bipolar politics, it made him an undisputed choice when it came to the party's chief ministerial sweepstakes.
As an undergraduate student at Government College in Sunam, Mann pursued his natural talent for satire in 1992, winning accolades in inter-college competitions. Then, Punjab was still in the shadow of decade-long terrorism. With violence-weary people craving for entertainment, he quickly became a household name with his oddly named chart-busting comic video albums such as Kulfi Garma Garam (Sizzling ice candy), Mithiyan Mirchan (sweet chillies) and Jugnu Mast Mast.
Spurred by his growing popularity, he took the political plunge in 2011 by joining the People's Party of Punjab (PPP), a party set up by Manpreet Singh Badal (now in the Congress) after he parted ways with the ruling Shiromani Akali Dal. A year later, in his first electoral fight from Lehragaga segment, Mann took on former chief minister Rajinder Kaur Bhattal of the Congress, but came third. The setback only steeled his resolve to pursue a career in politics.
From greenhorn to seasoned campaigner
Months before the 2014 Lok Sabha elections, Mann jumped onto the AAP bandwagon and was pitted against Akali stalwart Sukhdev Singh Dhindsa from Sangrur. The greenhorn won by a whopping 2.11 lakh votes, and has not looked back since. In the 2017 assembly elections, Mann doubled as the party's star campaigner and its candidate against Shiromani Akali Dal chief Sukhbir Singh Badal in the latter's stronghold of Jalalabad. Though he lost, the AAP won 20 seats and emerged as the principal opposition party in the assembly. Mann again proved his worth in the 2019 Lok Sabha elections when he was the only AAP candidate across the country to win his seat even as all other party nominees in Punjab forfeited their security deposits.
It was as a parliamentarian that Mann, never short of attention-grabbing sharp wit, earned his spurs as a vocal espouser of Punjab-centric issues in the Lok Sabha. Even as the AAP in Punjab was rocked by internal dissent and defections – half of its 20 MLAs turned rebels and switched sides – Mann stayed steadfastly loyal to Kejriwal. The only time he publicly criticised the boss when the latter apologised to Akali leader Bikram Singh Majitha to extricate himself from a defamation case over the drug allegations.
Upright but no stranger to controversy
Ironically, the party's internal upheaval in Punjab cemented Mann's credentials as a trustworthy leader and his eventual elevation as CM face. Known to be an upright leader, the AAP CM-elect has been no stranger to controversy, centred mostly around his alcoholism that prompted even Prime Minister Narendra Modi to take an oblique swipe at him in Parliament and a complaint by then minister and Akali MP Harsimrat Kaur Badal about a "boozy smell" on the Lok Sabha benches. After embarrassing videos showing him in an inebriated state surfaced, Mann had to take a public pledge in January 2019 to quit alcohol. "I have taken a solemn vow to say no to alcohol for good in my mother's presence," he told a gathering at a rally, also attended by Kejriwal.
Not surprisingly, Mann's rivals have all along dismissed his chief ministerial ambition, saying "he is fit only for entertainment but not to helm the state". "Running the state is different from managing the stage," said Congress chief minister Charanjit Singh Channi in his oft-repeated dig at his formidable rival.
On Thursday, however, Mann had the last laugh. But his next test lies in proving his rival wrong – as a sober successor.
(With inputs by Navneet Sharma)