Punjab poll results: In worst show, SAD faces existential crisis
Mar 11, 2022 02:32 AM IST
SAD's second consecutive defeat in the assembly polls has pushed the party, once known for representing the Panth and the peasantry, into an existential crisis
One of the oldest parties in India Shiromani Akali Dal (SAD) displayed its worst electoral performance since its inception in 1920 by clocking a mere three seats in the 16th Punjab assembly polls, posing a grave threat to Sukhbir Badal's leadership who himself suffered a humiliating defeat.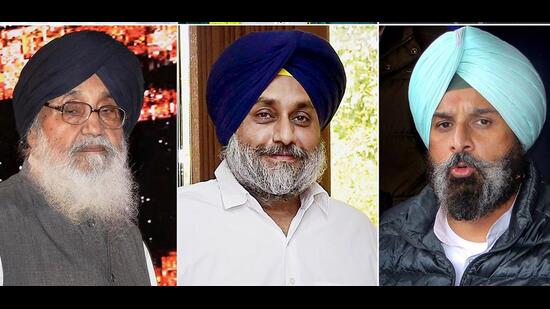 With Badals at the party's forefront, its political fortress stands demolished completely, which party leaders majorly its patriarch Parkash Singh Badal built brick-by-brick over the past six decades and later handed it over to his son Sukhbir, on whom the onus of the defeat falls.
Stay tuned with breaking news on HT Channel on Facebook.
Join Now
SAD's second consecutive defeat in the assembly polls has pushed the party, once known for representing the panth and the peasantry, into an existential crisis.
The party candidates who could sail through include Ganieve Majithia from Majitha, Manpreet Singh Ayali (Dakha) and Dr Sukhwinder Sukhi (Banga).
Sukhbir himself suffered a humiliating defeat at the hands of AAP candidate Jagdeep Goldy Kamboj on his home-turf Jalalabad with a huge margin of over 30,000 votes.
The party candidates stood at number two position in 46 assembly constituencies.
Adding insult to injury, veteran party leader Parkash Badal, who remained five times Punjab chief minister and had won ten assembly elections back-to-back in his political career, lost with a margin of over 11,000 votes in his home seat Lambi, which he had won five times consecutively in the past.
Party's senior leaders Prem Singh Chandumajra and Tota Singh were placed third in voters' tally at their respective constituencies. Sikandar Singh Maluka, Mahesh Inder Singh Grewal and Adaish Partap Singh Kairon also suffered defeat.
"It seems we just could not identify our enemy and campaigned aimlessly," a party leader said on the basis of anonymity.
In 2017 assembly polls, Akalis won 15 seats. They had contested the polls in alliance with BJP.
However, the experiment of a tie-up with BSP this time to consolidate dalit electorate, who are 32% in the state, could not turn the tide for them. Only one candidate of BSP Nachhatar Pal won from Nawanshahr.
Having severed the 25-year-old ties with BJP in 2019 over the repealed farm laws, SAD last year tied up with BSP, giving it 20 seats in a pre-poll arrangement.
SAD's vote share slided from 25.42% in 2017 state polls to 18% in Thursday's result. In 1997, SAD had won 75 seats with 37.64% vote share but after that it saw gradual fall.
After the party's defeat in the 2017 assembly polls, Sukhbir faced opposition from within the party as senior leaders including Sukhdev Singh Dhindsa and Ranjit Singh Brahmpura questioned his leadership, suggesting him to quit.
Both the leaders resigned from the party. Dhindsa formed his faction and joined hands with BJP and Brahmpura, however, returned to unsuccessfully contest Khadoor Sahib.
Sukhbir somehow managed to keep the flock together then, but this time it seems a herculean task as it was he who was leading the party's entire poll show – from finalising the candidates to working out poll strategy to leading the campaign.
"The results were expected. There was anger against the Akalis which I think they failed to decipher. After the incidents of sacrilege in 2015 when they were in the power, combined with the allegations indulging in mafia of drugs, sand and transport, people of Punjab started disliking them," said Jagrup Singh Sekhon, former head department of political science, Guru Nanak Dev University, Amritsar.
Party's core support in the rural Punjab seems to have drifted towards the AAP as a more promising option. SAD's stand on the farm laws passed by the centre, which party's top leaders, including Parkash Singh Badal supported and later opposed, left the peasantry disillusioned towards the party.
Even the resignation of the party's lone representative in the Union government Harsimrat Kaur Badal did not help.
"I think (the AAP's) slogan for 'change' worked that we failed to counter. We will sit and analyse what led to our defeat. There is always a new beginning," said party spokesperson Daljit Singh Cheema.
The party has called the meeting of its top decision making body, the core committee on March 14.
All plans failed
SAD's announcement of making Dalit and Hindu deputy chief ministers could not impact the voters' minds. To project a secular face, the party pushed 13 Hindu candidates into the poll fray but none of them could win. Four days ahead of the polls, Sukhbir rolled out a manifesto offering freebies and populist steps not realising that voters have AAP on the top of their minds.
Despite having started early with the poll preparedness last year and announcing candidates ahead of other parties, SAD even failed to repeat its last year's performance of winning 15 seats.
Even though Sukhbir managed to make his party's leadership stand behind him, check factionalism, and ran a consistent campaign, it had no impact.