Punjab polls | 'Arrogance', allegations of corruption did Ashu in
Mar 11, 2022 01:41 AM IST
Congress' poster boy and cabinet minister Bharat Bhushan Ashu lost the Ludhiana West segment to his former colleague Gurpreet Gogi by 7,512 votes in the 2022 Punjab polls
Frequent brush with controversies, clashes with government officials and allegations of corruption went against Congress' poster boy and cabinet minister Bharat Bhushan Ashu who lost the Ludhiana West segment to his former colleague Gurpreet Gogi by 7,512 votes.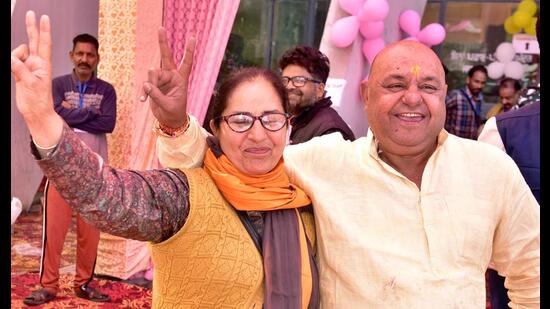 Gogi had left the Congress just before elections, accusing Ashu of destroying the party's image in the district, and joined the Aam Aadmi Party (AAP). The move worked in Gogi's favour as he breached Ashu's bastion, riding on the AAP wave.
Stay tuned with breaking news on HT Channel on Facebook.
Join Now
Ashu, a two-time MLA and food, civil supplies and consumer affairs minister in the outgoing Congress government, also suffered due to the infighting in the party.
In January, Punjab Medium Industry Development Board (PMIDB) chairman Amarjit Tikka resigned from the Congress stating that the party had become a one-man show in the district. Punjab State Industrial Development Corporation chairman KK Bawa also filed nominations against Ashu as an independent candidate, but later withdrew his papers.
Dismissed deputy superintendent of police, Balwinder Sekhon, who was contesting against Ashu as an independent candidate, also attacked him over the alleged CLU (change of land use) scam pertaining to construction of flats on Gill Road. There were also allegations of corruption in the food supply department when he was the minister.
Opposition parties, including AAP, Shiromani Akali Dal and Bharatiya Janata Party, accused Ashu of committing frauds worth thousands of crores during distribution and purchase of wheat grains, even during the pandemic. Old videos and audios of Ashu, purportedly threatening and misbehaving with government officials were also making the rounds of social media during the elections.
After defeating Ashu in the elections, Gogi stated that it is the end of 'Ravana Raj' in Ludhiana West constituency and AAP will work for betterment of the state and the seat.
Ashu, on the other hand, stated that he performed his duty honestly and worked for the betterment of the constituency and state. "I have been serving the public for the last 25 years as a councillor and MLA. The public has given its mandate and we have accepted it," said Ashu.
Ashu could not even secure votes equal to his previous margin
In 2017, Ashu had defeated his nearest rival AAP candidate Ahbab Grewal by a margin of 36,521 votes. This time, the total votes polled in Ashu's favour did not even reach his previous margin. BJP candidate, advocate Bikram Singh Sidhu secured the third position on the seat with 28,107 votes. SAD candidate Maheshinder Singh Grewal bagged 10,072 votes, followed by SSM candidate Tarun Jain Bawa who bagged 3,831 votes.