Punjab polls: Just 57% young first-time voters got inked
Mar 06, 2022 01:28 AM IST
Only 57% newly registered voters, aged 18 and 19, exercised their franchise during the Punjab assembly elections held on February 20, according to data sourced from the chief electoral office
Only 57% newly registered voters, aged 18 and 19, exercised their franchise during the Punjab assembly elections held on February 20, according to data sourced from the chief electoral office. The turnout of these young first-time voters turns out to be 15% lower than the overall voting in the state, which stood at 72%.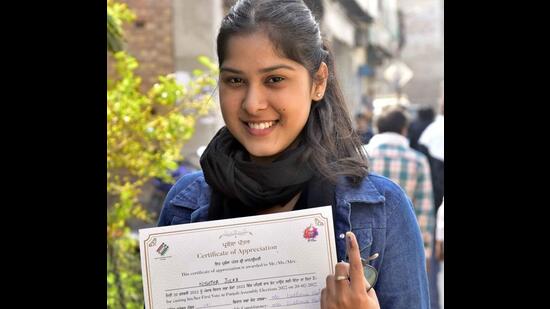 According to data, 3,48,836 first-time electors in the 18-19 age group were registered by the Election Commission of India (ECI) ahead of the elections in Punjab, but only 1,99,023 exercised their voting right across 117 assembly segments in 23 districts.
Fatehgarh Sahib recorded the highest turnout, where 74.6% of 7,600 eligible voters in the 18-19 age group cast their ballot. Mohali lagged behind with just 32.1% voting seen in this age group, even as 10,651 teens had been issued voter cards.
In terms of registrations, Ludhiana led with 36,096. At 57.1%, the district's turnout was similar to the state's average. Jalandhar followed with 30,918 young first-time voters, of whom 47.6% got inked, while Hoshiarpur stood third with 24,157 such eligible voters, of whom 66.7% turned up at polling booths.
Even as the ECI and district administrations had taken up various initiatives on the polling day, including first-time voting certificates, selfie points and model polling stations, besides conducting many awareness activities ahead of the elections to encourage the young voters, the turnout remained poor.
A deputy commissioner posted in Doaba Region, seeking anonymity, said the poor figures could be because many youngsters in the 18-19 age group are studying elsewhere and didn't return to their home towns and villages to cast their votes. "Many times, families also avoid calling their kids for voting due to the fear of fights in the elections, especially in border districts," said the senior official.
Prof Ashutosh Kumar from the department of political science, Panjab University, attributed it to the "youth's alienation from politics, parties and political class". "Many youngsters have completely lost hope in the future of Punjab, and blame politicians and parties for it. They think why to vote as there is nothing for them in Punjab, and instead they all look forward to move abroad," he said.
Even overall in 2022, Punjab registered the lowest footfall at polling booths after the 2002 state elections. Of 2.14 crore registered voters, only 1.54 crore (72%) voted, more than 5% drop in turnout since 2017, when it stood at 77.4%.