Punjab polls: Of 14 kin of politicians, only 4 romped home victorious
Mar 11, 2022 02:40 AM IST
Rana Inder Partap Singh, son of cabinet minister Rana Gurjeet Singh, registered a convincing win with a margin of 11,731 votes from Sultanpur Lodhi constituency. He is the only independent candidate in the state to register victory
Patiala: Of the 14 relatives of seasoned politicians, who contested the February 20 Punjab assembly polls, only four managed to taste success.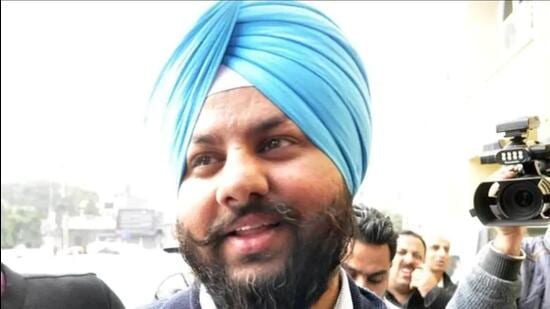 Rana Inder Partap Singh, son of cabinet minister Rana Gurjeet Singh, registered a convincing win with a margin of 11,731 votes from Sultanpur Lodhi constituency. He is the only independent candidate in the state to register victory. Rana Inder got 41,337 votes (38.24%) while Congress' Navtej Singh Cheema stood on the fourth spot with 13,396 votes (12.45%). Despite the AAP wave in the state, it's candidate Sajjan Singh Cheema stood second with 29,606 votes.
Rana Inder decided to fight as an independent after he was denied the Congress ticket. During campaigning, Rana Gurjeet challenged Congress candidate Cheema saying: "It is Rana's election and I would leave politics if my son loses elections from Sultanpur Lodhi."
In Majitha, Ganieve Kaur, wife of SAD leader and former minister Bikram Singh Majithia remained victorious with a margin of 26,062 votes. Kaur got 57,027 votes (46.69%) while her rival Sukhjinder Singh Lally Majithia polled 30,965 votes.
Ganieve threw her hat into the poll ring when the party decided to field Majithia against Punjab Congress chief Navjot Singh Sidhu from the Amritsar East constituency. In 2017, Majithia got 65,803 votes from this segment.
Daughter of Prof Sadhu Singh, former AAP MP from Faridkot, Baljit Kaur remained victorious from the Malout assembly segment. She got 77,370 votes (55.6%) and defeated SAD's Harpreet Singh by a margin of 40,261 votes. She took premature retirement from the state health department in November 2020 to follow in her father's footsteps.
Sunil Jakhar's nephew Sandeep Jakhar won the Abohar seat with a margin of 5,555 votes. Contesting for the first time, he polled 49,390 votes, while AAP's Kuldeep Kumar got 43,835 votes. In 2017, Sunil lost elections by 3,279 votes from this segment.
Mohit Mohindra, son of cabinet minister Brahm Mohindra, lost his maiden elections from Patiala Rural by a margin of 53,474 votes. Mohit polled 23,681 votes (15.97%), while winning candidate from AAP Dr Balbir Singh got 77,155 votes (52.05%). In 2017, Mohit's father Brahm Mohindra polled 68,891 votes and won the seat by a margin of 27,229 votes.
Mohit is not new to politics as he was actively handling his father's political affairs in the assembly segment. Mohit's defeat has come as a shocker for Mohindra.
CM Charanjit Singh Channi's brother Dr Manohar Singh failed to leave any mark in the Bassi Pathana assembly segment. He polled just 13,796 (12.3%) votes. He decided to contest as an independent after the Congress denied him the ticket from Bassi Pathana.