Punjab voted with vengeance, and decisively
Mar 10, 2022 07:03 PM IST
BEYOND THE NEWS: High on a heady victory, Bhagwant Mann has his task cut out. He will have to navigate the burden of soaring expectations stemming from a raft of populist promises that the AAP has made, while steering the state beset with daunting challenges: A ballooning ₹3 lakh crore public debt, farm distress, burgeoning unemployment and drug menace
At last, Punjab's eternal quest for a third alternative to its long-entrenched two-party polity, quite like its standstill wheat-paddy cycle, ended on Thursday.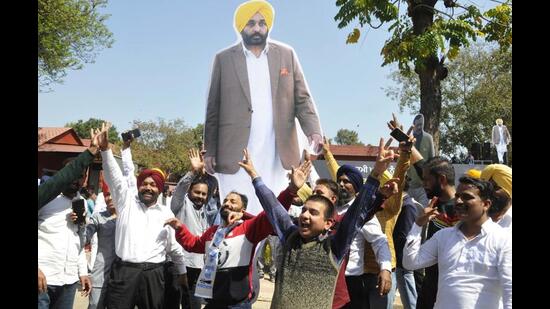 The Thursday tsunami that ousted the Shiromani Akali Dal, the Congress and other legacy players is not a merely a thumping vote for change, it is a volcanic expression of no-confidence against the established political order and the way they have ruled, or misruled, the state in the last 60 years.
Stay tuned with breaking news on HT Channel on Facebook.
Join Now
To put it bluntly, Punjab has voted with vengeance. Nothing else explains the astounding electoral rout of the scale the border state has never seen before.
At the end of the day, lying in tatters were the political reputations of four former chief ministers, a former deputy chief minister, almost the entire Congress cabinet and an all-time CM aspirant Navjot Singh Sidhu, and the most powerful Badal clan. Incredibly enough, the giant slayers were first-timer greenhorns in what until yesterday appeared to be the David versus Goliath fights.
For once, restive Punjab, caught in a subliminal churn of anger and aspirations, has inflicted a collective punishment on an entrenched political class and reset the political dynamics like never before. In effecting a seismic shift, it has reaffirmed its time-tested faith in voting decisively.
Rising above fault-lines, people voted as Punjabis
The AAP wave stands out for transcending Punjab's fundamental fault-lines of caste, class, communal and rural-urban divide that political actors unfailingly try to sharpen and exploit for electoral interests. This time, however, the identity politics has fallen by the way side. People voted as Punjabis – in re-assertion of the fronter state's composite ethos. It is a vote for hope.
Truth be told, it was ahead of the 2017 assembly polls that the AAP intuitively sensed the signs of growing fatigue and frustration with Punjab's legacy politics and a subterranean yearning for an elusive third alternative. It, however, blundered along the way, with its flirtation with the Khalistani fringe and frittered away an opportunity, still ended up establishing a firm foothold as the principal opposition party.
Cut to 2020. The AAP in Punjab was a pale shadow of itself, sapped by debilitating bouts of dissent and desertions. But then came the most profound grassroots churning that Punjab has experienced after a long time: A massive mobilisation for farmers' protests against the now-repealed three farm laws.
The agitation, in essence, articulated the peasantry's, rather Punjab's, sense of despair and distrust vis-a-vis traditional parties who they felt were self-serving and corrupt and failed to articulate and resolve their existential issues. The way the agitators kept the political class off their stage underlined the latter's disconnect from a popular protest movement. The kisan morcha's triumph, months before the Punjab elections, spurred a new political awakening in Punjab. It was the bellwether of change.
Kejriwal's credibility, Mann's charisma got AAP 'ek mauka'
It is this groundswell that a rejuvenated AAP astutely tapped into and projected itself as a viable alternative, leveraging its Delhi model of governance and a raft of populist guarantees that caught the popular imagination. Unlike its 2017 poll outing without a CM face, the party was wiser this time in naming Bhagwant Mann at just the opportune moment. Pivoting Arvind Kejriwal's credibility with Mann's charisma as a crowd-puller and a killer 'ek mauka' slogan, the formidable AAP election machine deftly spun a winning narrative that lent its juggernaut an unstoppable momentum that distinctly unnerved the rivals. "Ehna de khilaf koi rambaan dasso ji," a glum-faced Charanjit Singh Channi implored me after addressing a quiet election rally at Mehal Kalan in Sangrur district just five days ahead of polling.
If the Anna Hazare movement birthed the AAP and propelled its power trajectory in the national capital, it will be prudent to attribute Kejriwal's extraordinary feat in Punjab to the tectonic shift in people's outlook in the wake of the farm ferment. What really swung the dice for AAP was that it, unlike the political mainstream, has no historical baggage in Punjab.
Flush with a heady victory, Bhagwant Mann has his task cut out. He will have to navigate the burden of soaring expectations stemming from a raft of populist promises that the AAP has made, while steering the state beset with daunting challenges: A ballooning ₹3 lakh crore public debt, farm distress, burgeoning unemployment and drug menace. His sharp political instincts will make for the lack of experience in running a government. But, he will have to learn the ropes quickly to deliver on one element that rocket-powered his party to power: Hope.