Case filed against 500 unidentified persons for spreading rumours of EVM swapping
Mar 11, 2022 10:37 PM IST
A case was registered against 500 unidentified people and 40 named people for blocking the road and pelting stones over rumours of irregularities in EVMs on March 8 evening in Varanasi, according to police.
A case has been registered against 500 unidentified people and 40 people by their name, on Friday, for blocking the road indulging in stone-pelting over the rumour of irregularity in EVMs on March 8 evening in Varanasi, the police said.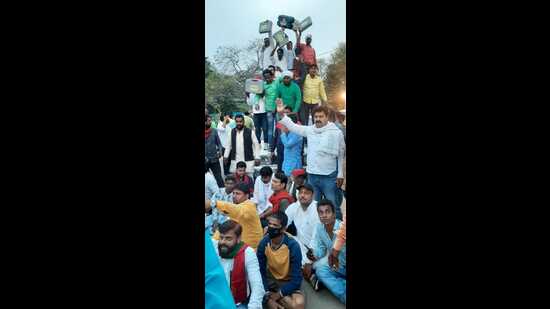 Alleging irregularities, a large number of SP workers had gathered outside the gate of Pahadia Mandi after they stopped a vehicle carrying 20 EVMs to UP College from Pahadia Mandi on March 8 evening.
SP workers staged a demonstration, although the administration said that the EVMs were being taken for hands-on training of the employees on election duty on counting day.
The case has been registered at Jaitpura police station following a complaint by a cop, said a senior police officer.
Inspector Jaitpura Mathura Rai registered the complaint on Friday.
In his complaint, Inspector Rai said that on the evening of March 8, he and his team were on duty near the strong room, located in Pahadia Mandi. The SP workers were creating ruckus alleging manipulations in the EVMs.
Inspector Rai's complaint further said hundreds of people from Jaitpura's Kamalgadha, Chohra, Pilikothi, Jaitpura Chhamuhani, Khwajapura, Badi Bazar, Doshipura and nearby areas blocked the road at Golgadda Tirahe over the rumours of irregularities in EVMs and allegations of EVM swapping.
The agitating people shouted slogans against the administration and indulged in stone-pelting when the police personnel asked them to disperse. Police had to use mild force to disperse them. The jeep of the Jaitpura police station was also damaged by the miscreants.
The FIR has been registered against around 500 unidentified people and 40 persons by name under relevant sections of IPC following a complaint, Rai said.
Further investigations are on, and a team has been deployed to ensure the arrest of the accused persons, the police said.