Day after UP poll results, Yogi Adityanath meets governor; second innings to begin soon
Mar 11, 2022 11:55 PM IST
The process for the formation of the new government may technically begin only after the Election Commission of India (ECI) notifies the constitution of the 18th state assembly
A day after winning an unprecedented second term, chief minister Yogi Adityanath met governor Anandiben Patel, tendered his resignation and apprised her of the UP poll results (list of newly elected MLAs) here on Friday.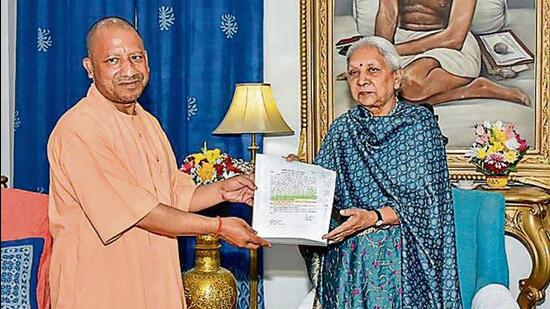 "Chief minister Yogi Adityanath has met governor Anandiben Patel and handed over the poll results showing the BJP's victory. The governor has accepted his resignation and asked him to continue till alternative arrangements are made," said those aware of developments at Raj Bhavan.
The governor and Raj Bhavan officials congratulated the chief minister on his victory.
The BJP and its alliance partners bagged 273 of 403 assembly seats in the elections, the results of which were announced on Thursday. The Samajwadi Party-led coalition bagged 125 seats
Those aware of the developments in BJP said the swearing-in may take place after the festival of Holi.
The process for the formation of the new government may technically begin only after the Election Commission of India (ECI) notifies the constitution of the 18th state assembly.
"Once, the ECI notifies the setting up of the new assembly, the process for formation of the new government will begin," said a senior officer.
Hectic activity was witnessed at the chief minister's residence on Friday as Union ministers, senior BJP leaders, ministerial colleagues and senior bureaucrats met Yogi Adityanath to congratulate him on the victory.
"Soon," the chief minister said to Hindustan Times when asked how long before the formation of new government will take place in Uttar Pradesh. Senior officers of the state government said the nominations for election to posts of 36 members of state legislative council are set to begin on March 15.
"The formation of new government may also take place around the same time," a senior officer said earlier.
There are also indications that the chief minister may soon proceed to New Delhi to meet the BJP leadership and discuss the formation of the new government. This may also pave the way for convening of BJP legislature party meeting and set in motion the process for the formation of the new government.
Before going to Raj Bhavan, Yogi Adityanath presided over a meeting of the state cabinet that expressed its gratitude to the people for the BJP's victory. The state cabinet thanked Prime Minister Narendra Modi for his "leadership and guidance".
"Efforts were made in the past five years to provide an atmosphere of security, provide basic infrastructure facilities and benefits of government schemes without and discrimination with the PM's sabka saath, sabka vikas motto. The state government's efforts have brought positive changes in Uttar Pradesh," said the state cabinet's resolution.