UP polls: More than half candidates in Prayagraj region get less votes than NOTA
Mar 13, 2022 11:32 PM IST
On nearly all 12 seats of Prayagraj, the number of voters preferring NOTA was more than the votes bagged by candidates of various parties
With many voters in Prayagraj region going for "none of the above" (NOTA) option in the recently concluded UP assembly polls as in the past, more than half of the candidates in all 22 assembly segments of Prayagraj, Kaushambi and Pratapgarh districts secured less votes than the ones which went to NOTA, say the election results declared by the Election Commission of India (ECI).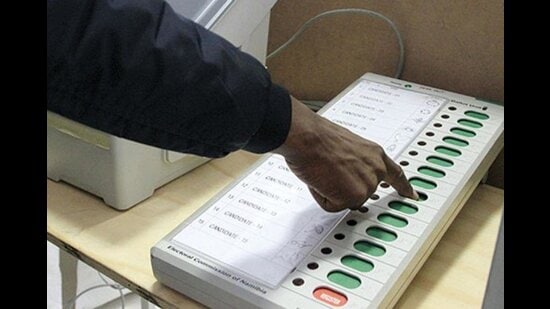 On nearly all 12 seats of Prayagraj, the number of voters preferring NOTA was more than the votes bagged by candidates of the Congress, the Aam Aadmi Party, the AIMIM, the Communist Party of India, the Jansatta Dal (Loktantrik) as well as the Lok Janshakti Party.
Handia assembly seat saw 1960 voters opting for NOTA where Congress' Reena Kumar Bind (1440) AAP's Pawan Kumar Tiwari (1355) failed to match it. On Meja seat, 1768 people preferred NOTA even as Congress' Shalini Dwivedi (1547), AAP's Ram Kumar Mishra (342), AIMIM and Jan Adhikar Party alliance candidate Babaloo Kumar (872) were among the 11 candidates out of the 14 who failed to match NOTA.
A similar situation was seen on Koraon seat where 2,628 voters went for NOTA while AAP's Harish Chandra got 1764 votes, AIMIM-Jan Adhikar Party candidate Ashok Dhuriya bagged 1592 votes along with CPI's Chiraunji Lal who polled 1654 votes.
On Phulpur seat, NOTA was pressed 1548 times and the Congress got votes more than NOTA but 11 out of 15 candidates scored less than NOTA. On Bara assembly seat, 2,728 people went for NOTA but nine smaller parties, including AAP and CPI, could get less votes than NOTA. In Pratappur, 653 votes were cast for NOTA but seven out of 25 candidates failed to match it. Similarly, 914 voters chose NOTA in Karachhana and except BJP, SP, BSP and Congress, votes of all eight out of the 12 candidates remained below NOTA.
In Allahabad West, 1518 voters went for NOTA, whereas eight out of 12 candidates, including AAP (601), bagged lesser votes. In Allahabad North, 919 votes were cast for NOTA. Here, three out of nine candidates, including that of AIMIM, failed to match it.
In Pratapgarh, a total of 90 candidates were in the fray on the seven assembly constituencies. Out of this, 58 candidates failed to get votes equal or more than NOTA. As many as 20 candidates could not get even 500 votes.
In all the seven assembly seats of Pratapgarh, NOTA was opted for a maximum 2,438 times in Rampur Khas seat while independent candidates Devendra Pratap (1509) and Kuldeep Singh (659), Shiv Sena's Surendra Singh (485), Moulik Adhikar Party's Samay Nath (640), Janata Dal United's Lalji (300), Bahujan Mukti Party's Ramraj Saroj (1383), Sarvodaya Bharat Party's Ravindra Kumar (406), Lok Dal's Durgesh Kumar (284), Rashtriya Rashtrawadi Party's Karan Bahadur Singh (232), Apana Dal Balihari Party's Awadhesh (239) and AAP's Ajit (347) all got lesser votes.
Similarly, 2,161 people pressed the NOTA button on Kunda seat even as independent candidates Harivansh Kumar (895), Seema (380), Dhirendra Mishra (400), Tanveer (493) and Jayesh Singh (1368) besides Bahujan Mukti Party's Dharmraj (1985) and Congress' Yogesh Kumar (549) bagged votes below NOTA.
On Babaganj seat, a total of 1959 times the NOTA got pressed whereas independent candidates Sitaram (1120) and Vinod Kumar (1050) besides Bahujan Mukti Party's Ram Pratap Saroj (1245) and Congress' Veena Rani (1501) could not match it.
Similarly, NOTA got 1900 supporters in Vishwanath Ganj while independent candidates Vishnudatt (415), Rajesh (464) and Mohd Khalid (1023) as well as Subhashwadi Bhartiya Samajwadi Party (Subhas Party)'s Sushil Kumar Tiwari (556), Shiv Sena's Sushil Kumar 556, Rashtra Uday Party's Sarita Pal (1267), Moulik Adhikar Party's Shivmurat (655), Rashtriya Janshanti Party's Vinod (321), Bahujan Mukti Party's Ramdarash Saroj (837), AAP's Pankaj Pal (1484), Log Party's Anil Kumar (634), Bharatiya Sarvjan Vikas Party's Ajay Sharma (1537) and CPI's Maharani Deen (1867) got votes less than it. The scene remained same on other seats of the district too.
In Kaushambi district, Sirathu saw 727 people opting for NOTA while eight out of 18 candidates, including that of Lok dal, Shiv Sena and AAP, failed to match it while on Manjhanpur seat where NOTA got 2815 votes, the three independents out of the total eight candidates could not cross it. On Chail seat also, NOTA got 1960 votes while four candidates, including two independents, out of the total 15 candidates could not reach or cross the number.