Uttarakhand ECI Election Result 2022 Live: How to check direct link for updates
Mar 10, 2022 06:35 AM IST
ECI Result 2022 Live, Uttarakhand Election vote counting updates latest: The Election Commission of India website will provide the accurate update on assembly poll results. Find details of the ECI direct link here.
Uttarakhand Assembly election results 2022: With polling completed for assembly seats in Uttar Pradesh, Uttarakhand, Punjab, Goa, and Manipur over seven phases, all eyes are now on the results. While Uttarakhand, Punjab, and Goa voted in a single phase, the election in Uttar Pradesh, the most populous state of the country, was spread over all seven phases.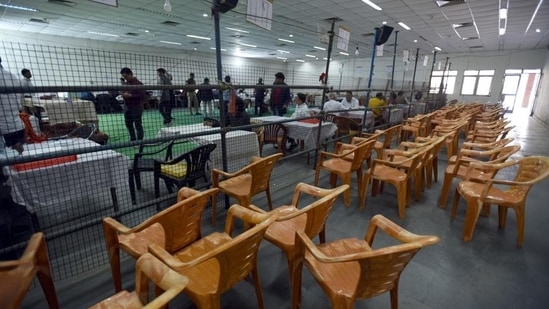 The voting for Uttarakhand assembly elections 2022 was conducted in a single phase on February 14, which saw a higher women voter turnout than men. The state assembly election recorded 65.37% polling, with 67.20% female voters' participation and 62.6% that of male voters. The overall voter turnout, however, was 0.19% less than the assembly elections held in 2017 in which the Bharatiya Janata Party (BJP) emerged as a winner.
In 2017, BJP bagged 57 seats in the 70-member assembly and the Congress ended up with a paltry 11, with then chief minister Harish Rawat losing from both seats he contested. Uttarakhand voters have never given any political party a consecutive chance to govern the state since the state's formation in 2000.
This time, Congress, as a challenger, will be hoping that the trend continues as it eyes to snatch the state from the ruling BJP. Congress will also be counting on the voters to veer towards it after witnessing the state's tumultuous journey under BJP's rule which saw three chief ministers in five years. Both BJP and Congress have shied away from naming the chief ministerial candidate.
While chief minister Pushkar Singh Dhami contested from his home constituency Khatima, Harish Rawat, Congress's campaign committee chairman, contested from the Lalkuwa Assembly seat. Here's the full list of Congress, BJP and Aam Aadmi Party (AAP) candidates whose fate will be decided on March 10, the day of the counting of votes.
Exit polls have predicted an edge to the incumbent BJP and Congress will be hoping that the final results turn out in its favour.
Exit Polls 2022 for Uttarakhand Assembly Elections
India Today-My Axis India: BJP 36-46, Congress 20-30, Others 4-9
ABP News-CVoter: BJP 26-32, Congress 32-38, AAP 0-2, Others 3-7
News 24-Today's Chanakya: BJP 43, Congress 24, AAP 0, Others 1-3
Times Now-Veto: BJP 37, Congress 31, AAP 1, Others 1
Republic-P Mark: BJP 29-34, Congress 33-38, AAP 1-3, Others 1-31
You can follow the latest updates on the 2022 Uttarakhand Assembly election results Election Commission, or ECI, website. Click here to check the latest updates on the 2022 Uttarakhand Assembly election results.