Abhay Deol feels Shah Rukh Khan's Pathaan controversy isn't 'unimaginable': 'Many people have done it before'
Jan 06, 2023 08:17 PM IST
Actor Abhay Deol recently commented on Pathaan row and called the world 'polarised'. The Shah Rukh Khan-starrer will release on January 25.
Actor Abhay Deol in a new interview talked about the cancel culture trends in Bollywood, which has been affecting the industry for quite some time now. He also briefly commented about the ongoing controversy around Pathaan, starring Shah Rukh Khan and Deepika Padukone. The actor said the uproar isn't 'unimaginable' as it has occurred in the past as well. (Also read: Pooja Bhatt reacts to Bajrang Dal 'protests' against Pathaan in Ahmedabad)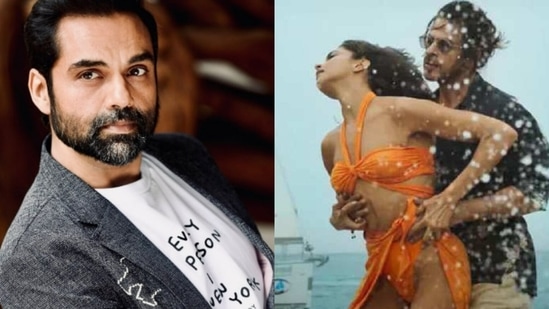 Pathaan is directed by Siddharth Anand and is set to release on January 25. The film landed in controversy when its first song, Besharam Rang, released and many initially objected to the outfits of Deepika Padukone including one saffron bikini. Since then, many politicians and others have alleged that the film hurt their religious sentiments.
Ahead of the Pathaan trailer release on January 10, Abhay Deol was asked to comment on the matter. He told India Today, "It is not something unimaginable. If you look at the world today, it is polarised. If you want to make an issue of something, you can easily do it. It is possible. Many people have done it before and will continue to."
"We do live in a polarised world. I think social media and technology have made information so fast, and it is also disinformation at so many levels. There is this tendency to reduce things to a headline. There is inconsistency everywhere, whether it be the media or people consuming that media. It is a volatile space, and that is an interesting subject, but do I believe in bans and cancel culture? It is more nuanced than that. I think banning doesn't necessarily make it go away. It (the subject) goes underground," he also added during the same conversation.
However, Abhay feels 50 years from now, people might look back at the cancel culture trend and laugh at the 'stupidity.' Besides Shah Rukh and Deepika, Pathaan also stars John Abraham.
Recently, a video of the Bajrang Dal destroying the posters of Pathaan at a mall in Ahmedabad went viral on social media. Shared by the group on Twitter, it read, "Today in Karnavati Bajrangi washed #पठान (Pathaan), anti-Sanatan Dharma @iamsrk and Tukde gang @deepikapadukone movie will not be allowed to run now. Warned the multiplex, if the movie is released, #बजरंगदल (Bajrang Dal) will show its attitude. Bajrang Dal in honour of 'Dharma'."
Meanwhile, Abhay will be next seen in Netflix's web series Trial By Fire. Also starring Rajshri Deshpande, the series based on true events will release on January 13.