Almost Pyaar With DJ Mohabbat review: Anurag Kashyap brings a film as confused as its leads
Feb 03, 2023 01:36 PM IST
Almost Pyaar With DJ Mohabbat review: Anurag Kashyap's latest love story picks up too many issues, never fully exploring any.
If you are bored of watching brainless films that just look good on screen but don't require you to look for logic, then Anurag Kashyap's Almost Pyaar with DJ Mohabbat might seem a bit different. Not because it has any extraordinary art in there, but for the sheer complexity that Kashyap infuses in his story that requires you to concentrate on the screen a bit harder to understand what is even happening.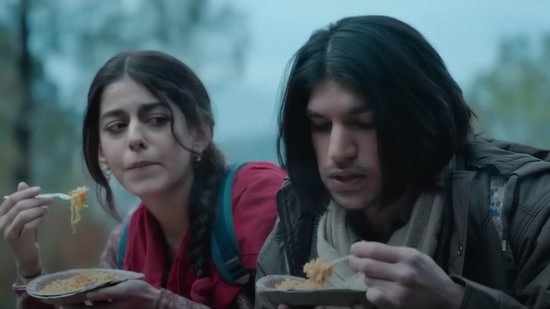 The films shows two parallel stories in different landscapes -- one set in Dalhousie and the other in London. Both stories are about confused youngsters who are never shown to admit the equation between them and call it love, but throw enough hints at a Romeo and Juliet kind of romance. While their love stories doomed even before they begin, it's rather bizarre how Kashyap approaches them. In Dalhousie, local boy Yakub (debutant Karan Mehta) who sells bootleg film CDs, is attracted to 16-year-old, school going girl Amrita (Alaya F) and shows her 'cinema for free' because he finds her 'cute'. The two run away from home to watch a concert of DJ Mohabbat who they truly adore. Simultaneously in London, a rich-brat Ayesha (also Alaya F) is obsessed with a small-time DJ Harmeet (also Karan Mehta) who plays at a club where Ayesha visits to take a break from her 'modern' family.
The story in Dalhousie is more innocent with a small-town charm where we see Amrita and Yakub enjoying noodles in the hills, dancing around bonfire and being obsessed with posting videos on Ting Tong (remember TikTok that got banned in India). The other story brewing in London is more fast paced, dark and chaotic with Ayesha trying to get some me-time while Harmeet eventually warms up to Ayesha when she can't get over him. In one moment you soak in the beauty of the hills and the next moment, you are thrown in the loud and dark clubs. Kashyap presents us two different works but wants us to believe that they both have several commonalities and are somewhere connected deep down. In the process, he ends up picking up way too many subjects. From patriarchy, love jihad to homophobia and religious extremism, Almost Pyaar tries to blend more than it can actually handle. As a result, you don't know what exactly the film wants to say. Does it end at being two unfortunate love stories? Or does it really want us to get angry at patriarchy and all the abovementioned issues that still plague our society.
What bothered me most is the fact that while Almost Pyaar picks on one too many subjects at the same time, it doesn't talk about any in detail and their mentions just come and go without leaving an impact. In the end, it starts to look cluttered and extremely convoluted with too many subplots thrown in. At 121 minutes, the film isn't really stretched but even then, you hope for a climax to come a bit sooner.
Alaya F is getting better with each project. As both Amrita and Ayesha, she is confident, convincing and brings out the layers in her characters. The innocence she exudes as a school girl or the flamboyance she wears playing a rich brat, she portrays the stark opposites with equal ease. Karan Mehta (son of a Punjabi filmmaker) looks promising as a debutant and gets enough to showcase his potential as an actor. Though, his hair -- in both as Yakur and Harmeet - often act as distraction, but somewhere I felt, there was a conscious effort from Kashyap to let only certain traits of of Mehta's characters get spotlight. Vicky Kaushal is DJ Mohabbat is charming each time he comes on screen, however, I didn't see any point where he kind of binds the two stories other than the fact that all the four youngsters share a common love for music and want to watch DJ Mohabbat perform. In fact, the film starts with Kaushal saying some lines that are straight out of a Javed Akhtar and Gulzar's books but his erratic appearance in scenes is more of a disjointed piece of puzzle rather than acting as the narrator of the film.
All said and done, I totally enjoyed the music throughout the film. Kashyap once again joined hands with Amit Trivedi after dev D and Manmarziyaan to create an album that talks to you, engages you with its cool and quirky lyrics. Mind you, there are some eight song in the film and each one takes the narrative ahead instead of just being misplaced songs. Mohabbat Se Kranti can very well be the next love anthem. Oh, there's a sweet little cameo by Arjun Kanungo also playing a gig at a club and that's when a popular streaming platform get a plug with the track 'Netflix and Chill'.
To conclude, I'd say, watch Almost Pyaar thinking that you're getting to watch a musical concert and in between, small skits are performed to keep you entertained, but don't try too hard to wrap your head around the motive of the film, because your efforts might not meet with an end result. And the end, a cliff-hanger might leave you intrigued. Is there a sequel already on its way? Kashyap can answer this for us, maybe.