Birthday Boy Sidharth Malhotra plays rapid fire, answers interesting fan questions
Jan 16, 2023 12:33 PM IST
As the Shershah actor Sidharth Malhotra turns 38, here's a special something to make his fans go 'dil maange more'.
The kind of fandom Sidharth Malhotra enjoys is unmatched! His loyal fanclubs never miss an opportunity to ask their favourite star questions that let them know him better. As Sidharth turns 38 today, we have a little something to make his fans happy. As it had been quite sometime since the actor did an #AskSid session on Twitter, we asked him to answer some fan questions that we had received on TRwitter during a recent interview with HT City. Check out how Sidharth spilled the beans in this rapid fire round...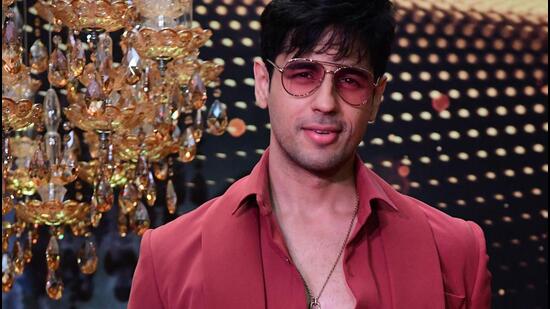 Three things on your bucket list for 2023
To do a superhero film or a play a superhero character. Maybe produce a film, or get involved more than just an actor on a project. And third maybe take up some interesting project, internationally.
What's next after Mission Majnu, Yodha and Indian Police Force?
There's something very interesting brewing up, which is in the pipeline, but as and when we have the correct title, we will make the announcement.
Have you and Disha Patani performed action together in Yodha?
Yes! Disha is someone who loves action genre, which I realised during shooting Yodha, and people will be very happy to know that she's done some really cool moves and action bits in the film.
When are you doing an intense romantic film, an out-and-out love story?
Oh, actually that's number four on my bucket list this year (laughs). I'm with my fans on this, and as I said, we'll make it soon... it's all in the pipeline, hopefully soon, we will let everyone else know.
You've slowed down in your film promotions post-pandemic. Why aren't you more active on social media.
Or really? They're finding a difference in me pre and post pandemic! Not at all. There's more energy being put into content development or working on a project to make it more polished and certain level in quality, as my endeavour is always to contribute to my movies. But, thank you for reminding me, I'll do a quick chat on social media soon.
When would you be back with stubble or full grown beard?
They should ask (filmmaker) Mr. Rohit Shetty for that. Indian Police Force is a massive show, so we're taking a while to shoot at different locations and different sets. So, whenever my fans see me in the recent months, it's all thanks to Rohit sir and the IPF look. We still have more shoot left and this year we'll finish, and then people will see me in a different avatar.
We loved your chemistry with Shraddha Kapoor in Ek Villain. Would you team up with her for Malang 2?
Oh, wow, I like that they're now asking me for specific films. It's so exciting to see their level of excitement and love into it. Well, I don't know what Malang 2 is about but Shraddha for sure. Whenever we meet, we've always spoken about doing a film or project together. Now, it's up to a director to come up with a film and a story that both of us feel extremely excited about.
After Shershaah, are you and Kiara Advani doing director Shashank Khaitan's next?
Hahaha, as I said, all in good time. We want to make a certain announcement, in a proper way. As and when all the things are in place, it will be announced. So far, I think I have enough and more for my audience with a busy 2023, with three different big projects coming up.
If a remake has to be made, which Amitabh Bachchan film would you want to do?
I am a big Mr Bachchan fan. It's so funny that you talk about him because this is the first time in Mission Majnu that I get to portray a character which is from the '70s. So, our references for silhouette of shirts and pants were a lot from Mr Bachchan's earlier body of work. Not that I have tried to emulate him but I feel he's a true hero and star in the action zone. It's actually very difficult for me to pick any one film. I love them all from The Great Gambler, Zanjeer to Deewar, Kaalia and more. With Mission Majnu, I have lived little bit of his times, his look and his era in my head.
Interact with the author on Twitter/@monikarawal