Fans react to childhood pics of Malti's parents: 'She is beautiful combination of both Priyanka Chopra, Nick Jonas'
Feb 03, 2023 10:35 AM IST
Malti Marie Chopra Jonas made her public debut in support of her dad Nick Jonas as she joined mom Priyanka Chopra at the recent Jonas Brothers' Hollywood Walk of Fame ceremony. While some fans think she looks like both her parents, others see more of Priyanka than Nick in Malti.
Malti Marie Chopra Jonas made her first public appearance alongside her mom and dad, Priyanka Chopra and Nick Jonas, recently. They attended the Jonas Brothers' Hollywood Walk of Fame star ceremony together on January 30, where the one-year-old sat on Priyanka's lap as her dad and uncles Kevin and Joe Jonas accepted their star. Now, fans are reacting to cute childhood photos of Priyanka and Nick, with some saying 'Malti is a beautiful combination' of both her parents. However, a few others are convinced that little Malti 'definitely' looks more like Priyanka. Also read: AI imagines Priyanka Chopra and daughter Malti as beautiful queen and her adorable princess, fans are smitten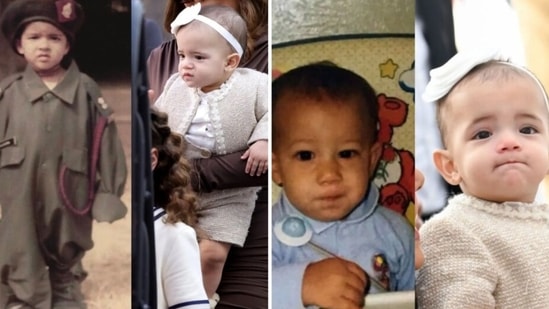 On Friday, Priyanka's fan page, Jerry x Mimi, shared a series of photos on Instagram from Priyanka and Nick Jonas' childhood, along with recent photos of Malti's outing during the Hollywood Walk of Fame event. The first photo was a collage of Malti's picture with Priyanka and Nick, from when they were around their daughter's age. The second one was a collage of Priyanka's picture as a toddler, in which she posed in her late father's Army uniform, alongside one of Malti wearing a beige and white outfit during her first public appearance. Then there was one collage of baby Nick and Malti's pictures, followed by a couple of more photos of Priyanka and Nick as babies.
Fans flooded the comments section of the post with all kinds of reactions, with many comparing Nick and Priyanka with Malti Marie Chopra Jonas. A comment read, "Malti is a beautiful combination of both Priyanka and Nick!" One fan wrote, "She has Priyanka's eyes, and Nick's tiny mouth..." A person commented, "She looks like she got it from both her parents equally at this age. With time it would change." Others leaned more towards Malti taking after her mom. A fan commented, "That's Priyanka! Malti looks just like her." Another one said, "I think she (Malti) is all Priyanka definitely." One also wrote, "I can see her mom in her, but not her dad at all." Other were simply happy to see their photos. One wrote, "There you go. The miracle baby and her parents."
Since she was born in January 2022, Priyanka and Nick have been diligent about maintaining their daughter's privacy on social media. They often share photos of their daughter, which always features an emoji over Malti's face or show her facing away from the camera.