Kuttey movie review: An entertaining, raw and wild tale of bloodthirsty people
Jan 13, 2023 10:53 AM IST
Kuttey movie review: Being the first release of 2023, Kuttey doesn't disappoint. The film stars Tabu, Arjun Kapoor, Kumud Mishra, Konkona Sen Sharma, Radhika Madan, Naseeruddin Shah, Shardul Bhardwaj.
Everyone has a gun. Everyone is shooting remorselessly. There's blood splashing all over. It's dark, gory and at the same time, funny. Kuttey could have easily turned out to be a case of 'too many cooks spoil the broth', but the way the screenplay unfolds, introducing us to one bloodthirsty character after another, played by Tabu, Arjun Kapoor, Kumud Mishra, Radhika Madan among others, this thriller only gets you more intrigued to witness the fate of these people. Set on a broader premise of corruption, greed and the never-ending lust for money, Kuttey, to a large extent, justifies why everyone has their own reasons behind their actions. Also read: Arjun Kapoor, Tabu are out to cross one another in this heist thriller. Watch Kuttey trailer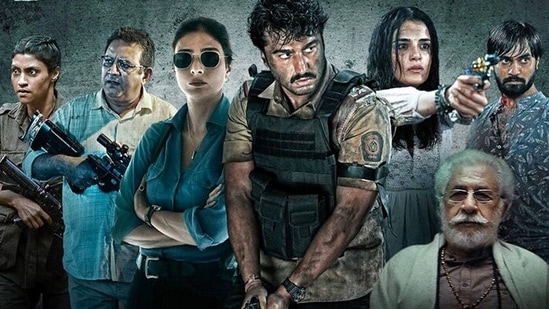 Directed by debutant Aasmaan Bhardwaj, Kuttey starts off on a quirky note and that's one thing that it sticks to throughout. The narrative is interestingly divided into four parts including an epilogue followed by three chapters – Sabka Maalik Ek, Aata Kya Canada and Moong Ki Daal. These titles may not make any sense at first, but as the events unearth, we know why.
Kuttey begins with Gopal (Arjun Kapoor) and Paaji (Kumud Mishra) getting a contract to kill a politician's rival, but it all goes kaput when the corrupt cop inside them plans mischief and greed takes over. Their uniform is at stake and to save themselves, they need money. That's how it all starts. How more people and gangs join this heist of sorts to loot a van full of cash meant to be loaded in ATM machines across the city, is for you to watch.
Aasmaan, who has co-written the story with his filmmaker father Vishal Bhardwaj, has nicely handled this complex script. Even though the first half gets a tad slow and takes unnecessary time to build up, the fast-paced second half puts together all the pieces of puzzle together, albeit it's too chaotic to take it all in at one go. At one point, you wonder where this will all lead to, and why can't these people just sit together and talk. But slowly as the story moves forward, we get the answers. The last 20 minutes are the most impactful and add to that, a hilarious, yet predictable, twist, which by the way we are seeing filmmakers incorporating in their projects a lot these days.
Tabu as police officer Pammi is once again out there to earn accolades for playing a part that carves its place among other male characters. As a cop, she's raw and fierce but when things go haywire, she turns into a badass boss. She brings in the much-needed comic relief in this otherwise dark tale of blood and gore. Arjun delivers an earnest performance and manages to impress with his trigger-happy antics. I liked how his character sketch had various shades including the part where he's shown to be religious and fasts on Tuesdays before he goes on a shooting spree at a pool party. Complimenting him is his aid Kumud Mishra who gets great scope to perform and shine. He lets his action speak volumes and is very convincing in each scene. Radhika Madan and Shardul Bhardwaj, I felt, had very little to do and didn't bring much to the table. Naseeruddin Shah as Khobre, one of the most powerful characters turns inconsequential in the storyline and simply vanishes where his character should have had a crucial role. Ashish Vidyarthi, too, was wasted in merely two scenes not optimising his talent. Konkona Sen Sharma as Laxmi is outstanding though I would have loved for her character to have some more depth. That track somehow felt a bit rushed.
Amid this mixed bag of performances, what truly stands out in Kuttey is the background music. The album composed by Vishal with lyrics penned by Gulzar sahab, each song seems aptly placed in the story and only takes it forward. And the way Kuttey plays out Vishal's iconic Dhan Te Nan in the background in all important scenes, is just terrific.
Being the first release of 2023, Kuttey doesn't disappoint, however there could have been a lot more to explore and execute with the characters and story at hand. It's a one-time watch and if nothing else, enjoy the music.
Movie: Kuttey
Cast: Tabu, Arjun Kapoor, Kumud Mishra, Konkona Sen Sharma, Radhika Madan, Naseeruddin Shah, Shardul Bhardwaj
Director: Aasmaan Bhardwaj