Mission Majnu movie review: Weak story makes you miss Sidharth Malhotra's Shershaah charm
Jan 20, 2023 02:49 PM IST
Mission Majnu movie review: Despite Sidharth Malhotra in top form the film's weak story ruins the overall experience.
Sidharth Malhotra in kurta pyjama, with kohl-rimmed eyes, plays an R&AW agent in Pakistan who marries an innocent girl and using her as a cover in his mission to expose a nuclear facility. Mission Majnu boasts of a winner plot that's high on patriotism and heroic deeds. It is emotional, engaging and exciting. But, the experience is marred by too many easy coincidences and loopholes that are hard to ignore. Ahead of Republic Day, Director Shantanu Bagchi pays a tribute to all heroes who don't wear a uniform and sacrifice their lives for their motherland. However, the story, jointly written by Aseem Arrora, Sumit Batheja and Parveez Shaikh, falters at several places and doesn't let Mission Majnu hit hard.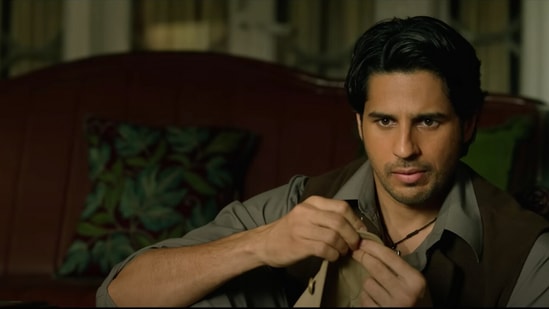 Set in the '70s, Mission Majnu narrates the story of Amandeep Ajitpal Singh disguised as Tariq (Sidharth), who is sick of being called the son of a traitor, but now wants to clear the name for his mother. He is on a covert mission in Pakistan to expose a nuclear weapons program. He is joined by two more undercover Indian spies played brilliantly by Sharib Hashmi and Kumud Mishra and it's their camaraderie that elevates the film. Like any other spy-thriller, there's a love angle, this time with the visually impaired Nasreen (Rashmika Mandanna) who has no clue about his mission. Back home in India, the government has changed and wants to mend their ways with Pakistan, yet the R&AW chief (Parmeet Sethi) continues the mission with his men in the neighbouring nation. There's too much chaos, confusion which leads to a familiar climax yet gives you goosebumps. On learning that several R&AW agents are living in Pakistan, the shootout that follows killing almost everyone on the radar is a rather well-shot sequence. Special mention to the portions where Kumud and Sharib's characters are targeted.
Sidharth leaves you with no complaints and is once again in top form, with a charming onscreen presence. Full marks to the way he has picked the dialect and the way he emotes. Rashmika brings a freshness to the film but doesn't have much to do. With limited scenes, there's not much you can expect from her character to take forward the story.
While Sidharth puts forth his best foot forward, after winning accolades for portraying an army officer in Shershaah (2021), it's Mission Majnu's weak story that somewhere hampers his performance and that's quite disappointing. It's understandable that an undercover agent isn't supposed to follow set norms and has to behave as normally as possible, but I couldn't wrap my head around the presence of so many frivolous dialogues and scenes to establish his character. Moreover, the way things happen -- whether it's him landing at the Brigadier's residence and trying to extract information about where Pakistan's nuclear plant is located or getting on board Samjhauta Express without any papers or passport, posing as a Sikh, and then following a fight on top of the train and eventually managing a clean escape -- all this gets a bit too much to digest after a point. I mean it sounds hilarious how makers equipped Tariq with this super power to crack the most difficult tasks and instantly act on them. Be it how an X-ray machine emits harmful radiations or how the foreigners would still use an English toilet in the '70s, you'd be amazed to see how he gets ideas from these situations that takes him a step closer to his mission.
That being said, Mission Majnu is an entertaining watch that somewhere wants you to only look at the hero in the frame and not question how things are unfolding on screen. The film is now streaming on Netflix.