Pathaan actor Rachel Ann Mullins on co-star Shah Rukh Khan: 'I didn't know who he was until we worked together'
Jan 27, 2023 06:47 AM IST
Pathaan actor Rachel Ann Mullins, makes her Bollywood debut with the Shah Rukh Khan-starrer but she did not know who he was before working with him. Read on for her complete interview with Hindustan Times.
Hollywood actor and Rachel Ann Mullins made her Bollywood debut with Shah Rukh Khan's new film Pathaan, but she did not know who Shah Rukh Khan was before working on the film. In an exclusive interview with Hindustan Times, Rachel talks about starting her journey in India, and her experience of working on Pathaan. (Also read: Pathaan box office: Biggest Bollywood opener ever, collects ₹53 crore)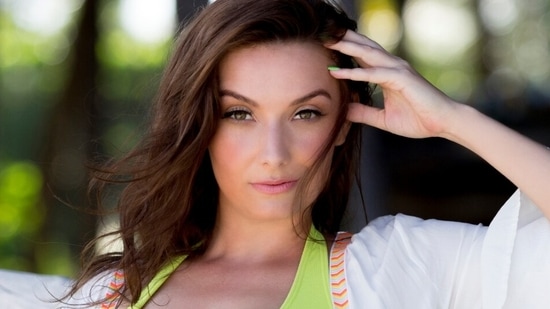 Rachel is best known for featuring in shows such as Happy Endings and The League. She has also worked in Hollywood films including Neighbours and The Entourage Movie. She plays the role of a Russian spy Alice in Pathaan.
Rachel said that she knew nothing about the scale of the film when she came onboard and could only guess it after realising that Deepika Padukone was a part of the film. "I knew nothing about Pathaan when I booked it. Not even the title, but when I saw Deepika Padukone's name on wardrobe trunks while I was shooting at the Yash Raj studio in Mumbai. I knew that this film was going to be very big. She's so incredibly gorgeous."
Asked about Shah Rukh Khan, she added, "I'm going to catch some ire for this but I didn't know who he was until we worked together. One of the assistant directors explained that he was a big deal. We had a nice day together and it turns out we share the same birthday."
Recalling how it all began, Rachel said, "My incredible agent, Ravi Ahuja had me audition for the part. I was in the Maldives when I got the call that I booked it and immediately went to Mumbai for costume fitting."
She also talked about the response that she has received since the release of Pathaan: "I've gotten so much love because of it. Watching the response from fans the world over has left me with my jaw on the floor."
Speaking of the difference between the functioning of Hollywood and Bollywood, she said that a few things are very similar, adding, "The production value and level of talent in individual people is the key difference between Hollywood and Bollywood. Everyone in Bollywood can sing, dance and act in equal measure. That is a real rarity in Hollywood. There are tons of labour laws in the union town of Hollywood but Bollywood doesn't have such strict rules. Modern Bollywood is more like old Hollywood."
"I learned that following my instincts and changing myself when the world changes is never a bad decision. I'm so happy I refused to stop working even when Hollywood shut down. I'm a big believer in the idea of going where you're treated best and I love that Bollywood is really accepting of me," she said.
Elaborating on how the switch to Indian entertainment happened for her, Rachel said, "After I shot part of my documentary that I directed and produced in India, back in 2016. I spoke to an agent on LinkedIn. We talked about Bollywood projects for years and I was very busy in Hollywood. However, when coronavirus lockdown imploded the entertainment business in Los Angeles I thought it was time to make the jump. At the height of India's lockdown I was admitted and immediately started auditioning for projects the day after I landed."
Talking about her first Indian project, Rachel Ann Mullins says, "The first time I went to India was for a documentary which I was producing and directing. Interviewing girls living in an acid attack survivor house in New Delhi changed my career and me as a person."
Having studied fashion merchandising at McKinnely, Rachel Ann Mullins began her journey as a model a the age of 12. Apart from Pathaan, Rachel's most recent appearance was on the Season 2 of I'm Dying Up Here, and the Indian web series Chutzpah which premiered on SonyLIV. Next up, she has the fantasy film Empire Queen lined up for release.