Pathaan movie review: Shah Rukh Khan's comeback film is high on action, low on logic
Jan 25, 2023 01:18 PM IST
Pathaan movie review: Shah Rukh Khan and Deepika Padukone's actioner is worthy every penny even as it defies gravity and logic.
Pathaan is fast, furious and about missions that are impossible. Bringing perhaps the last superstar of our generation, Shah Rukh Khan, back on screen in a full-fledged role after four years, Pathaan is worth the wait and all the hype. And the best part is that it wastes no time in introducing the man to us in his full glory. 'Zinda Hai', as Pathaan says in the trailer, surrounded by armed blood-thirsty men, the scene appears within 10 mins of the film and that's a bonus. The film is a perfect addition to this ambitious spy universe that previously saw Salman Khan's Tiger and Hrithik Roshan's Kabir. Director Sidharth Anand, who has earlier helmed action thrillers Bang Bang and War, once again presents his characters in the most glammed-up avatars, giving you enough drool-worthy moments. From Deepika Padukone's outfits to John Abraham's chiselled muscles to Shah Rukh Khan's CGI-enhanced six-pack abs -- Pathaan has too much in store that doesn't let you complain, albeit you don't look too deep for a meaningful story or logic. (Also read: Pathaan release live updates)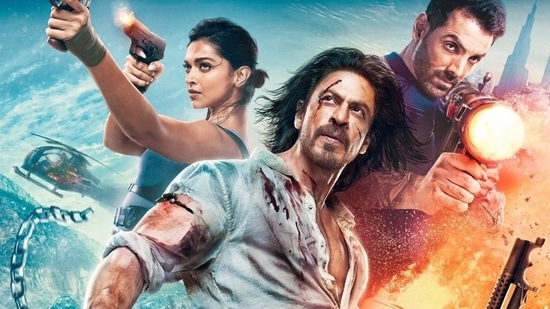 It revolves around Pathaan (Khan), an ex-armyman turned undercover agent who gets caught on a mission. He has now returned to save his country from a former R&AW agent Jim (Abraham) who has turned rogue after he was wronged by his own people. The film introduces its characters with solid back stories. An ex-ISI agent, Rubia (Padukone) becomes a part of the mission and has her loyalties questioned at several junctures. And that's pretty much about it. The whys and hows get answered in the due course of time with a lot of in-your-face action and hopping from one picturesque location to another with views that sometimes distract from the actual action unfolding in front of you.
You've seen Khan do Chaiyya Chaiyaa on top of a train, but Pathaan gives you much more. He's fighting on top of a Hummer, then somewhere mid-air on a rope tied between two helicopters and then jumps on to a truck. Basically, there's very little action on the ground and you'd see men in Pathaan mostly flying through the most high-octance action sequences. Also, when you have Khan and Abraham fighting it off on the big screen, you don't really need anything else to boost that adrenaline. And yes, the train isn't forgotten. Perhaps, the best and highest point of the film is when Pathaan meets Tiger (Salman Khan) and the two have quite an elaborate action sequence inside and then on top of a moving train. It was hard to focus on what was happening on screen with loud cheering, hooting, screaming and whistling throughout the duration of this scene. It was nothing short of celebrating true stardom with two superstars being in one frame in their best possible avatars.
At 146 minutes, Pathaan doesn't bore you but does seem a tad stretched in the second half when you're longing to arrive at the climax. There are some dialogues that make you laugh or sound too heavy, but the overall writing isn't impressive enough to leave a mark. Pathaan is high on action but it's better if you do not question the logic behind gravity-defying lifts and drops for there's none. They are a visual treat and a spectacle that immerses you without even trying too hard. It gets a bit too unrealistic at times, but that's what you get when filmmakers try to mount a film on the scale of a Hollywood actioner. The action is top class but some VFX felt weak and you could so easily make out the green chroma screen in those sequences. Another thing that kept me confused for most part of the first half was Shridhar Raghavan's screenplay and the non-linear narrative. The pace with which it kept jumping from one timeline and one continent to another, it just got too messy after a point. It is at the pre-interval block, that pieces of the puzzle start to fall in place.
It might have taken over three decades to get to play an out-and-out action hero, but it's never too late to pack a punch. He's charming, gritty and lets his eyes do most of the talking. The wit he brings on screen is straight out of his #AskSRK sessions and even in the most intense and deadly scenes, Khan makes you smile with his comic punchlines said with a straight face. Padukone in her hot and sultry avatar amps up the glam quotient so effortlessly. She gets her own share to perform and shine despite the men taking a major share of screen time. With the kind of finesse she brings in action sequences, her own, fleshed-out action flick won't be too much to ask for. Abraham makes you love him as a brooding baddie. Forget the muscles, for you can't take your eyes off his swelling veins through his tattooed arms. Adding gravitas to the story, Ashutosh Rana and Dimple Kapadia lend an able support to the cast and have their own lighter moments to shine.
Pathaan is your true-blue commercial, masala entertainer that's not trying to send across any message or be a social commentary on the current state of affairs in the country. It's fun, non-fussy and fantastic at the same time. Go watch it for Shah Rukh Khan and you would only come back with a smile, and maybe grooving a bit. Don't miss the scene just before end credits for it's not everyday you see two superstars in a banter about their stardom.