Pathaan: Why Dimple Kapadia is the real boss in this Shah Rukh Khan film
Jan 26, 2023 07:03 AM IST
Shah Rukh Khan plays an R&AW agent in the film and Dimple Kapadia plays his boss. Pathaan released on Wednesday, January 25.
She was never defined by the usual limitations of a Hindi film heroine and her latest role in Pathaan also makes Dimple Kapadia stand out among a cast that includes Shah Rukh, Deepika Padukone, John Abraham and Ashutosh Rana. (Also read: Alia Bhatt on Dimple Kapadia's '2.5 sec' role in Brahmastra)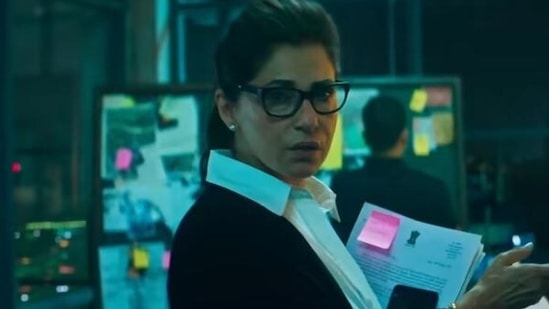 Dimple Kapadia plays the role of Shah Rukh Khan's boss in their recent film Pathaan and she is the hero for many other reasons as well. Shah Rukh plays a former RAW agent who is part of a special unit (funnily titled JOCR), and Dimple is the senior officer he reports to. Nandini (Dimple) may also have been Pathaan's mentor. Siddharth Anand's Pathaan is not Dimple's film, and not her best. Yet, it is one of the best appearances she has made in a Hindi film in recent times.
Nandini is a real woman - one who is in charge of her team at work and knows her work well. There are no unrealistic layers of stereotypical sacrifice, sexuality, or meanness attached to her character. A small sequence, right at the start, also establishes she has a family to go back to, but not one that makes her even second-guess her own decisions.
Acing the performance is nothing new for Dimple and a well-carved character only enhances the beauty of her efforts. Standing tall in front of an artist like Ashutosh Rana, Dimple's act through the film is impressive.
Dimple's swag, which was perhaps redefined with her Hollywood debut (Christopher Nolan's Tenet), is put to good use in Pathaan. Her Hindi films post Tenet (A Thursday, and Brahmastra Part One Shiva) also propped her as the aging and confident woman but not quite as beautifully as Pathaan does.
Touted as a spy thriller in the "spy universe" of Yash Raj Films, Pathaan is the story of the titular character (Shah Rukh Khan as Pathaan) and his endeavours to save India and its citizens as John Abraham (as Jim) and his friends make all efforts to attack various parts of the country.
The story of Pathaan is nothing fresh and is quite predictable. Often, there are twists that cannot pass the judgment of rationality. Nonetheless, the film has all the elements of a typical "entertainer, masala" film - comedy, romance, thrill, and whistle-inducing moments (not limited to Salman Khan's cameo) - packaged well.
Having made a film debut as sensational as Raj Kapoor's Bobby in 1973 at the age of 16, Dimple Kapadia's entry in Hindi movies and her first few roles were mostly about her beauty and sex appeal. She was among the most confident ones in that era, putting her sensuality to the best use. Films such as Jaanbaaz and Saagar were popular among the audiences who loved to watch Dimple's sensuous avatar.
With roles such as Megha Dixit aka Kalamwali Bai (Krantiveer, 1994) and Kiran Dutt (Zakhmi Aurat, 1988), she has mostly carved her own path and given strength to onscreen women, even in commercial and masala films. Her 90s stint was also defined by the choices she made in unconventional films such as Rudaali and Antareen.
It was only in the late 90s and early 2000s that she began choosing fewer roles, and these redefined the portrayal of older women onscreen. From Homi Adajania's Finding Fanny and Being Cyrus to Somnath Sen's Leela, Dimple chose rare roles that allowed women to rebel against norms of the society and live life the way they wished for. It's heartening to see her make good choices even during her second innings in Bollywood.