Siddharth Anand reacts to Pathaan being called 'pale imitation of Hollywood': 'That's inevitable'
Feb 02, 2023 07:35 PM IST
Pathaan director Siddharth Anand has addressed comparisons between the Hindi hit and Hollywood films. He also reasoned why such comparisons were inevitable.
Filmmaker Siddharth Anand recently opened up about those comparing his latest release Pathaan to Hollywood films. The film marks the first action movie of Shah Rukh Khan and also stars Deepika Padukone and John Abraham. As Pathaan continues to be the biggest box office success of 2023, the director said the comparisons were inevitable as it wasn't a conventional Bollywood film. Also read: Author Paulo Coelho calls Shah Rukh Khan 'king, legend, friend but above all great actor' after Pathaan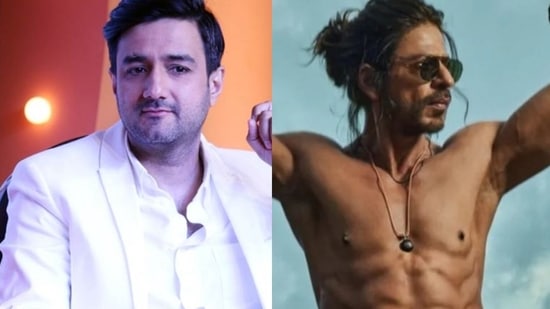 Pathaan released on January 25. It is based on Shah Rukh Khan playing a spy called Pathaan who sets out on a mission to save India against a terrorist group, led by John's character Jim. Backed by Aditya Chopra's Yash Raj Films, it opened to ₹106 crore worldwide on its first day. It is ruling the box office with its larger-than-life action sequences.
In a new interview, Siddharth said the comparison always exists when it comes to an unconventional Hindi film. He reasoned to Gulf News, "That's inevitable, when you make a film that's beyond the conventions of Bollywood films. You're instantly compared to Hollywood, which obviously has better infrastructure, better technology, and huger budgets. It will always seem like we're trying to imitate that, but our limitations are much more. We also have ambitions, our directors have the ability to mount films, but we're limited by reach because our films are made in one language, which is Hindi. Our revenues are directly proportional to the budgets we can afford."
"I have to admit, I haven't watched more than two MCU films. I'm not a fan of that genre. I've seen a couple of them. My son is a huge fan, and he's an encyclopedia. He briefs me and keeps me up to date. I have to run my scripts and my sequences past him, and he'll say, 'No, dad, this is in that film. No, you can't do this, this has already been done.' I'm like, 'What the hell do I do?' So, I take ideas from him on how to manoeuvre things around. I think I should get on the bandwagon and start watching those films, so that there's no overlap," the director admitted about not watching enough films from the Marvel Cinematic universe.
Siddharth's next film will be yet another action movie, Fighter (2024). It will star Hrithik Roshan with Deepika Padukone and Anil Kapoor.