Taapsee Pannu: Can't keep satisfying my personal ego of being called the best, highest paid or most versatile actor
Dec 11, 2022 10:29 PM IST
Having done back-to-back thrillers, her latest being Blurr, actor Taapsee Pannu says her personal ego is very insignificant in front of a good script and she will continue to do good films irrespective of the genre they belong to or without worrying about slotting.
Actor Taapsee Pannu is in a "happy, comfortable space", as her latest OTT release, Blurr, is fetching her rave reviews. Not just that, the the film also marks her debut as a producer. However, Taapsee admits it wasn't easy balancing the "dual task" of being the lead actor and also the producer. In a freewheeling chat with us, the actor reveals that after this project, she has decided to "not do dark thrillers for sometime and pick only lighter scripts" as she needs to "recover mentally". She also opens up about the typecasting culture in Bollywood, people's perception about her work and why she doesn't believe in pleasing everyone. Excerpts: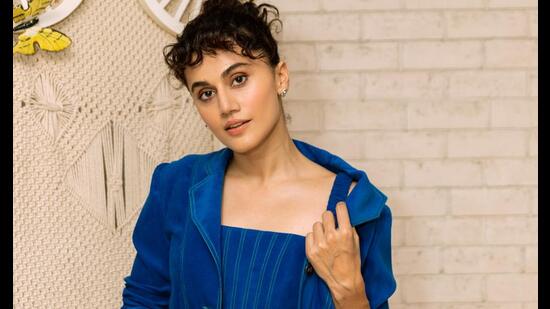 First film as a producer and that too a dark, psychological thriller... quite a brave move. How did you reach this decision that this is the film I want to start my production journey with?
You know, it was a catch-22 decision. I wanted to start with something else, a film called Dhak Dhak that's coming next and I don't really feature in that film as an actor. I wanted to start with something where I'm not the actor on board, and I'm just a producer, and something which is more fun, but in tune with my idea of fun, not something as dark as Blurr. So, that was the plan. But eventually it happened totally opposite -- something dark, something that features me.
This happened because of two reasons: First, because I felt that this is a very controlled film, in terms of locations, the number of people, so I thought it'll be nice to step into, and test my skills as a producer on a film like this. Also, I wanted to be a little more responsible and instrumental in taking decisions in terms of who should be in the film in the capacity of cast and crew, and how should this film actually look. Usually, if you're just an actor on board, it's beyond your domain, to command certain things that, 'This should happen, that should happen and this one should do it, that one should do'. You should not ideally be getting too much into it, but here I thought that I should step into it, to take that call officially. And hence, the decision of coming on board as a co-producer. I had signed, and said yes to Blurr as an actor, and months after that, I decided to step in and do the production.
While every film you do is different from the last, one can't deny that you've been somewhat getting too comfortable in this genre of films. Now having done back-to-back thrillers and murder mysteries -- Badla, Game Over, Haseen Dillruba, Loop Lapeta, Dobaara and now Blurr -- do you ever fear being labelled or typecast?
No. I think my personal ego is way insignificant in front of a good script. I can't keep satisfying my personal ego of being called the 'best' actor in the industry, or the 'highest paid' actor in the industry, or the 'most variety-offering' actor in the industry. All this is too secondary. If I get a good script, I want to do it. It doesn't matter what genre it is. If I'm an audience to a particular genre, or a kind of story, I'll do it without worrying about what slot it will put me into. I just want to be associated with good work. It doesn't matter to me what slotting is happening. And even if it's happening in a way that, 'she does this genre well', or 'she does this a lot in a film', I think for any actor to have a certain image is not very obvious in the film industry, because so many people come and go. So, if you have a strong recall value of me as an actor for doing certain kinds of roles, I still look at it in the positive light.
There was a section of audiences that pointed how you had started to look similar in your onscreen portrayals and there was nothing new other than your clothes. How would you take that comment today? Do you feel that perception has changed with your last few projects?
Initially, it did hurt me and bothered me. And that only happens when it's coming from people who you've kept up there in your head at a good position. People who are insignificant, or don't matter, or who you don't know, or who you don't think much of, woh agar aisa bolenge toh it doesn't affect you. Once that happened, I realised two things: First, you should not anybody on a pedestal. Everybody can make a mistake. Second, I realised it's impossible to make 100% people happy with what you do. There always will be people who will be able to dislike something - can be for whatever reasons - they might just not like you. Sometimes, I try to just make myself happy by saying, some people might be thinking, 'Yeh har baari achha toh nahi ho sakta, toh kuch na kuch toh galati nikaal hi dete hain'.
I also get really irked with the compliment that I get people when they say, 'But you perform really well, you must be used to this compliment, so let's talk about other things'. I understand where they are coming from, but you have no idea how much keeping this consistency has taken a toll on me. You might think this is a regular compliment coming my way but trust me, I desperately need this compliment because I'm trying really hard to live up to those expectations. I don't want to make myself look as like one-hit wonder or that I did well in a couple of films and then took it for granted. So, I'd really like those compliments to keep coming to tell me that I'm headed in the right direction.
Blurr isn't an easy story to tell, and even the characters are too complex and layered. As an artiste, what does it take for you to get into the skin of such a part in terms of prep and getting the nuances right? How was the prep like?
It is a mental challenge a lot more than physical. Physicality of this was tough because I was getting hurt every single day, as I was playing partially or fully blind in the film. But, that was probably the least of my concern. The bigger ones were the fact that I'll have to make it convincing that I cannot see, and that actually forces you to explore the sides of your brain, which you will otherwise not really meet. When you can't see, your other senses become heightened. And in the film, all the portions where I'm supposed to be blind or partially blind, I actually used those lenses or the blindfold to make sure that I can't see. So, all that was mentally more taxing than physically.
Otherwise, I don't have any other trick as an actor to portray these roles than to actually believe that this is happening to me or this is me. And hence, it takes a mental toll on me and it burns me out quite a bit. Therefore, after this film, I decided to just go light on my filmography, and take up only lighter stuff. This is the darkest ever I have gone. It made me feel the burnout mentally that I was going through when I was doing this film. So, it was very conscious decision after this film, to not to delve into darker zones and these kind of thrillers for some time, because I really need to recover mentally after doing these kind of roles.
While you played the leading part in the film, did the producer within you also take over sometimes on set while shooting? Would you call it an added responsibility or pressure of sorts?
I'm a debutant in terms of being a producer, so not very good at it psychologically, because I was an actor as well. Before the day started rolling, and after pack-up, I was fully in the producer zone and getting a low-down of what's going to happen or how the day fared. Since I had taken up this kind of a responsibility, I was subconsciously always bothered about the if everything is fine to an extent -- how those ladki walas are during weddings... Khane mein namak hai ki nahi? Aap achhe se soye ki nahi? -- all those kind of details also. That's because of the fact that I've seen the best and the worst of in productions probably, in my career of 10 years and different languages. And when I've gone through the bad times, I've always wanted to not do that to my cast and crew. That kept haunting me subconsciously to be extra careful, even though I didn't have to really because it was a such a controlled atmosphere and wasn't like sab kuch phaila hua hai, aur kuch samajh nahi aa raha kitne log hain, kya hai. But that was not a good feeling honestly, to be in that dual role. Hence, after the film got over, I told myself that I need to choose either for a particular project and not be an actor on board, unless and until absolutely necessary.
For the last over two years, we've been seeing films releasing on streaming platforms because of the pandemic and shutdown of theatres. And lately, a lot of your projects have come on the OTT. Do you miss the quintessential big screen heroine?
I'm a going audience myself, agar mera bas chale toh main series bhi big screen par dekhu. Having said that, I really didn't have an option with a lot of films of mine coming on OTT because that was the best possible medium to at least show the people what you've done, to at least present your work otherwise uss time par toh theatre hi band the and when they opened, it was with limited occupancy, or there was too much of clutter. So, there were multiple reasons, at multiple times, because all these films on paper were supposed to be for the big screen. But, the ones which ended up being on OTT were because some of the other of these practical reasons that we couldn't get them on big screen. I'd still want to go back to being on big screen primarily because that's what I'm an audience to.
However, after Haseen Dillruba, I started seeing the plus side of OTT platforms, which I never really experienced before, which is accessibility. The fact that I've seen people where they travel for so long to reach a theatre, at such places, they could easily watch a film on OTT, so the reach is insane. I started looking at the glass half full as well when I started seeing the result. But yeah, still I feel like I am the big screen audience, so I'd want to see my friends on big screen.
Also, OTT seems to have reached a saturation point as everyone end up picking similar genres to churn out new content. For instance, in this genre where a psychopath turns a serial killer - we've seen so many films being made in the recent past. How can we break this chain?
Be it films or docudramas, which talk about these psycho killers, they are this rage right now on OTT. I don't know for some reason the consumption is so high. Tomorrow, you can't just stop making a film just because bohot saare real-life docu-series ban chuke hain about psycho killers who actually exist, so you should stop making films on them. I myself have seen a few which is crazy, reality actually has been crazier than fiction that we have created. So, that can't be a reason. There are so many so many real -life success stories that are there on OTT, which are like documented series on lives of so many public personalities. It doesn't mean that the films or biopic on them would stop getting made. Every platform is churning out new content every weekend, but I guess now since it's the plain 'play and pause', mode of the audience, they are also able to see a lot more content than what they used to before. Earlier, the only way to see new content was to be at a particular place at a stipulated time. Now, they can watch it sitting at home, while travelling, or while waiting somewhere. So, the amount of time that they can consume content in, has also increased.
So, you don't think the novelty factor is getting somewhere?
No, I really don't. Just because one kind of a thriller, whodunit thriller worked and was seen a lot, doesn't mean people stopped making them. When we made Badla, it wasn't that a whodunit thriller hadn't come before that. Every film, if you have to classify in a particular type of genre, uske pehle hazaron film uss genre mein aa chuki hain. Be it superhero films, time travel, love stories... aisa kya hi naya hoga 'boy meets girl' love stories mein, so usko banana band thodi kar denge.
Now that Blurr is over, and out there for audiences, how are you recovering and getting back to your lighter self? And what's next coming up in terms of work?
After Blurr happened, I immediately jumped into Woh Ladki Hain Kahan, which is an out-and-out comedy from start to end. I remember the director came and told me that, 'You've really gone through a lot in the last couple of years with the kind of films and roles you've done. So, in this one, I just want you to come on set and be yourself and have fun'. This was literally the only brief he gave me for my character. When you see the film, you'd realised what he meant because I've literally just like been myself and had loads of fun and am going to make you laugh a lot. After this film also, all my successive projects that I've done or have signed up, including Dunki, are all relatively lighter and more fun. So, that helps me detox.
Interact with the author on Twitter/@monikarawal