When Shah Rukh Khan told Gauri Khan to stop worrying about his sleeping patterns: 'I am 44-years old, I can handle'
Feb 02, 2023 06:05 PM IST
Gauri Khan once called Shah Rukh Khan to discuss his sleeping patterns. The actor managed to assure with his magical words and told her to not worry about it.
Shah Rukh Khan and Gauri Khan make one of the most popular couples in Bollywood who continue to shell out couple goals. In fact, Gauri was his first girlfriend and the two have marked 31 years of togetherness with three kids--Aryan Khan, Suhana Khan and AbRam Khan. Talking about the longtime couple, an old video of Shah Rukh calming down a concerned Gauri has been found online. It's the actor's magical words that assured Gauri during his hectic work schedule. Also read: Gauri Khan loves Shah Rukh Khan's Jhoome Jo Pathaan song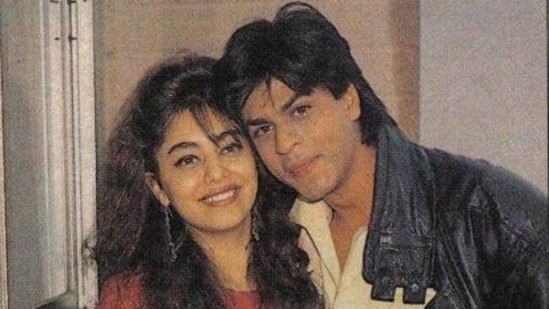 The video has been seemingly recorded on the sets of a film. Shah Rukh is seen wearing glasses as he spoke with Gauri Khan over the phone. He tells a worried Gauri, "Gauri, just let go of all this. You have known me for too many years to be discussing my sleep patterns. You just relax. Main itna toh kar lunga. Mai 44 years hu, itna toh mai handle kar lunga na main (I can do this much. I am 44 years old, I can handle myself)."
However, Shah Rukh wasn't alone. Filmmaker Karan Johar's voice was also heard in the video. Shah Rukh told his wife, "Karan is saying it's all fake, your concern," in context to their conversation. Karan added, "Lies. Just like it was about your economic situation." "Yeah, just like how you know my economic situation," Shah Rukh passed his message to Gauri on call. "That has just curtailed her shopping," chimed in Karan. "So just stop your shopping Karan has said," Shah Rukh jokingly told Gauri while controlling his laughter.
Reacting to the video, a fan wrote in the comment section, "Arey she's just concerned for you." "Karan is that friend who is always third wheeling between a best friend couple," added another one. Someone also went on to call Shah Rukh a 'typical Punjabi husband' and commented, "Since he has grown up in Delhi here Punjabi culture is pre dominant."
The video is a part of Shah Rukh Khan's series, Living With A Superstar: Shah Rukh Khan. It was released in 2010 and showcased the life of the actor in India and overseas, with a sneak peek into his life. Shah Rukh recently marked his comeback to the big screen with Siddharth Anand's Pathaan. Also starring Deepika Padukone and John Abraham, the action flick is currently ruling the box office.