Anne Hathaway dances her heart out in viral, mesmerising video, fans fall in love with her all over again . Watch
Feb 01, 2023 07:31 PM IST
A video of actor Anne Hathaway dancing her heart out at a party during the Paris Fashion Week is going viral. Fans reacted enthusiastically to her carefree dance moves. See the video here.
A video of actor Anne Hathaway dancing up a storm at the Paris Fashion Week is going viral. In the video which was shared by several fan accounts of the actor, Anne is seen dancing her heart out to the classic tune of 2001's Lady Marmalade from the Moulin Rogue soundtrack. (Also read: Eileen review: This unhinged mix of Carol and Hitchcock ultimately disappoints)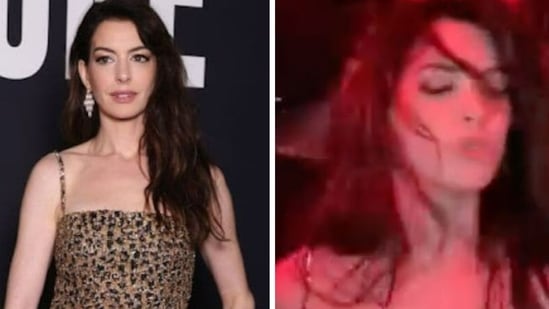 On Wednesday, The Devil wears Prada attended the Valentino Haute Couture show in Paris Fashion Week, in a head-to-toe leopard-print outfit, that included a matching clutch and matching leopard print heels. In fan videos shared on Twitter, Anne seems to dance at the after-party during Paris Fashion Week with a carefree abandon to Lady Marmalade. She flicked her hair across her face even as several phone cameras flashed at her. She lip-synced to the lyrics, "Voulez-vous coucher avec moi, ce soir?" and danced her heart out to the song with other party goers.
The viral TikTok video has since garnered more than 3 million likes, with many fans obsessing over Anne's moves. A fan said, "I wanna be her in my 40s," while another comment read, "I am in love w Anne Hathaway." One fan wrote, "Obsessed with her!" while another commented, "My toxic trait is thinking I look this good when dancing and singing along." A fan even responded to the video saying, "Day 2 and those videos of Anne Hathaway dancing have ruined my life my brain is physically incapable of thinking of anything else. I don't even know how to read anymore."
Anne was last seen attending the Sundance Film Festival, where she debuted her new film Eileen. She stars alongside actor Thomasin McKenzie in the romantic psychological thriller film which opened to rave reviews for her performance. According to our review, "Eileen, for all its lush promise and pull, never really knows what kind of film it wants to be. You never quite know what you are watching either- a bitterly resolute queer romance, or a pulpy psychological thriller."
Topics