Cate Blanchett reacts to 'lesbian icon' status for her character in Tár: 'Yeah cool, I'll take it'
Jan 14, 2023 10:25 AM IST
Cate Blanchett reacted well to several queer outlets calling her titular character in Tár a 'lesbian icon'. Cate said that the importance of the film is not on the character's sexuality, but her status as someone, who holds a position of power.
Actor Cate Blanchett reacted to the response for work in Todd Field's Tár, for which she scooped her fourth Golden Globe, this time winning Best Actress in a Motion Picture (Drama). In the film, Cate plays a queer conductor Lydia Tár, whose career comes spiraling down after several accusations come to light. Cate Blanchett reacted to the 'lesbian icon' status given by several queer fans. (Also read: Cate Blanchett's Tár wins best film at National Society of Film Critics, scores rare hattrick at major critics awards)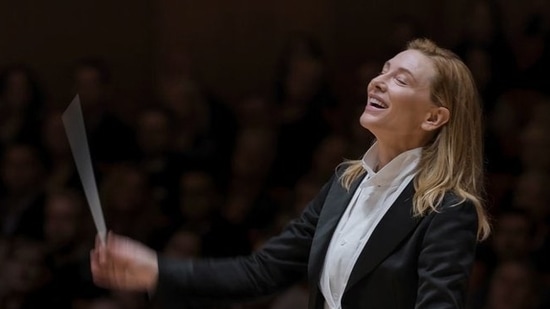 The Academy Award-winning actor, who is tipped to receive her eighth Oscar nomination, plays an EGOT-winning conductor in the drama Tár, where she is married to a female violinist (played by Nina Hoss). Cate, who skipped the Golden Globes 2023 ceremony in order to attend the London premiere of the film, has been busy promoting Tár. She said that the importance of the film does not lie in the fact that Lydia is a female conductor, and emphasised that director Todd Field laid no specific emphasis on the same-sex relationship of Lydia. The subject matter of the film is not on her gender and sexuality, but her power, explained the actor.
In an interview with Attitude Magazine, when Cate was told that there were several queer outlets and fans who named her character Lydia Tar as a "queer icon", she exclaimed, "Yeah, baby! That's so nice, I don't know what it means but it's nice. Yeah, cool, I'll take it." Cate has played queer characters earlier, in Richard Eyre's Notes on a Scandal and Todd Haynes's Carol. Talking about the film, Cate also said, "It's a meditation on power, but of course the landscape has changed enormously since we made 'Carol.' When we made 'Carol,' there were so few films that were moving over into the mainstream that dealt with same-sex relationships, and also picking it apart so it's not a monolithic experience. I think Tár could only have been made now. It couldn't have been made and viewed in a mainstream audience 20 years ago."
Recently it was also announced that there would be an addition to the film's cinematic universe, which is set to expand with the upcoming short film titled The Fundraiser. The short film will debut at 2023 Berlin Film Festival.