Jeremy Renner shares new pic, reveals he broke over 30 bones in accident; Chris Evans teases him, asks about 'snowcat'
Jan 22, 2023 04:54 PM IST
Actor Jeremy Renner spoke about his snow ploughing accident and revealed that he broke 30 bones. Here's how his Avengers co-star Chris Evans teased him.
Actor Jeremy Renner has revealed that he broke over 30 bones in the snow ploughing accident earlier this month. Taking to Instagram on Saturday, Jeremy shared a picture as he lay in bed while his physiotherapist helped him exercise. The actor seemingly was at home as lush greenery was seen outside his room. (Also Read | Jeremy Renner gets birthday wishes from Anil Kapoor, shares new pic post surgery)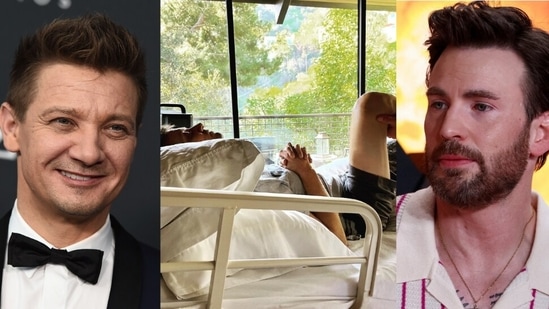 In the photo, Jeremy wore a grey T-shirt and black shorts as he lay on the pillow. His hands were clasped while he closed his eyes. Sharing the picture, he captioned the post, "Morning workouts, resolutions all changed this particular new years …. Spawned from tragedy for my entire family, and quickly focused into uniting actionable love."
He added, "I want to thank EVERYONE for their messages and thoughtfulness for my family and I …. Much love and appreciation to you all. These 30 plus broken bones will mend, grow stronger, just like the love and bond with family and friends deepens . Love and blessings to you all."
Reacting to the post, actor Chris Hemsworth said, "You're a champion mate! We love you." Singer Gwen Stefani wrote, "Praying for you." Jeremy also shared the post on Twitter. Reacting to it, his other Avengers co-star Chris Evans tweeted, "That's one tough m***r. Has anyone even checked on the snowcat??? Sending so much love." Jeremy replied, "Love you brother…. I did check on the snowcat, she needs fuel."
Jeremy returned home recently after spending two weeks in the hospital following the accident. According to the Washoe County Sheriff's Office, the actor got behind the wheel of his snow plow to assist a family member whose vehicle had gotten stuck in the snow.
He was able to free the vehicle from the snow and got out of the snow plow to speak to the family member when the plow began to roll and run him over. The accident occurred near his home in Reno, Nevada on New Year's Day. He was later airlifted and underwent surgery.
Jeremy's family had shared an official statement confirming that the actor underwent surgery after his snow ploughing accident. It said, "We can confirm that Jeremy has suffered blunt chest trauma and orthopedic injuries and has undergone surgery today, January 2nd 2023. He has returned from surgery and remains in the intensive care unit in critical but stable condition."