Johnny Depp not returning to Pirates of the Caribbean franchise as Jack Sparrow after Disney cancels reboot: Report
Nov 27, 2022 05:22 PM IST
A new report claims that Disney is not bringing Johnny Depp back as the lovable pirate Captain Jack Sparrow in a rumoured sixth installment of the Pirates of the Caribbean franchise.
After some reports claimed that Johnny Depp was set to reprise his iconic role of Captain Jack Sparrow in a new Pirates of the Caribbean film, a recent report seemingly debunks them. As per the new report, after Disney cancelled the planned reboot of the franchise, the franchise is on hold and Johnny is not slated to star in any film in the series. Also read: Margot Robbie says female-led Pirates film has been dropped by Disney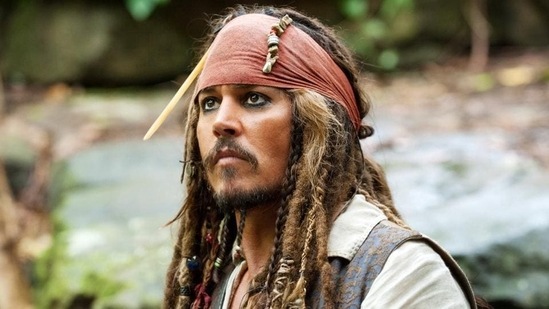 Johnny Depp first starred as the lovable pirate in the first pirates film The Curse of the Black Pearl (2003), reprising his role in four sequels from 2006-17. However, it was reported that a planned sixth film was shelved following Johnny's ex-wife Amber Heard's allegations of domestic abuse against him. A new report last week claimed that following Johnny's recent victory against Amber in a defamation case, Disney was re-starting the project.
A new report from Ace Showbiz cites sources close to the production house and states that they 'debunk an earlier report which said that the actor is set to reprise his role as Captain Jack Sparrow'. Last week, British tabloid The Sun had reported that Disney was set to begin shooting the film next year and its working title was A Day at Sea.
"Johnny is set to return as Captain Jack Sparrow and is scheduled to start filming at the beginning of February at a top secret location in the UK. Everything is in the early stages and there is still no director attached to the project, which is being called A Day at the. Johnny is expected to do a test shoot in early February before the production gets fully underway," the report quoted a source as saying.
However, the new report says the franchise may just be on hold for now. Earlier this month, a planned reboot of the series starring Margot Robbie was apparently cancelled by Disney, the star herself said in a new interview. Few reports say that Disney wants to test the waters first before restarting the popular brand.