Puss in Boots The Last Wish movie review: Fantastic sequel that goes on a brave journey of life and death
Jan 19, 2023 03:38 PM IST
Puss in Boots The Last Wish movie review: The swashbuckling feline legend returns for a fantastic sequel that takes viewers on an adventurous journey between life and death in this visually impressive animated feature.
The charismatic cat legend, Puss in Boots, is back on the big screen over a decade after his spin-off Puss in Boots (2011). First introduced in Shrek 2 (2004), the swashbuckling feline was all but guaranteed adventures of his own after he stole scenes in the animated sequel. But as time has passed, Puss has to now grapple with his mortality as he's down to his last life in this latest exploit. (Also read: People who love acting will find success: Antonio Banderas)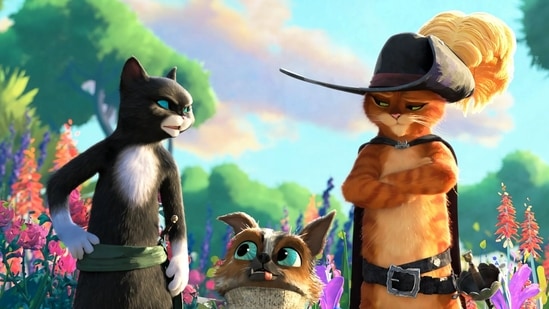 Co-directed by Joel Crawford and Januel Mercado, Puss in Boots The Last Wish is a surprisingly deep and gripping look at life and death. The usually unflappable Puss, voiced by Antonio Banderas, has to come to terms with living life on a grand scale and being confronted with Death himself. Every department on the feature has stepped up their game so that the film looks and feels stunning in a 3D viewing. Technically and visually, Puss in Boots The Last Wish has improved greatly upon its previous film.
When confronted by Death himself in the form of a large, menacing wolf (voice of Wagner Moura), Puss panics and runs off to hide at the house of an old cat lady Mama Luna (voice of Da'Vine Joy Randolph), burying the remnants of his former life. He befriends the scrawny little dog Perrito (voice of Harvey Guillén) who disguises himself as a cat in order to survive. But his old life come back to beckon him back to adventure as Goldilocks (voice of Florence Pugh) and The Three Bears Crime Family (voices of Olivia Colman, Ray Winstone, and Samson Kayo) try to recruit him to steal the map of the last wishing star from Big Jack Horner (voice of John Mulaney).
Puss, who is now convinced he can bring back his nine lives, goes on a separate mission to hunt down the star in the Dark Forest. Along the way, he runs into his old flame Kitty Softpaws (voice of Salma Hayek Pinault) who still hasn't forgiven him for their last encounter. Together with Perrito, Puss and Kitty try to outsmart Goldi, the Bear family and the vicious Jack to make the final wish themselves.
The sequences in the Dark Forest are more dynamic than the battle in the first Puss in Boots. The stakes are much higher here. The trio of Puss, Kitty and Perrito have some heart-to-heart conversations about the state of their lives. While Puss and Kitty are much more cynical, the sassy Perrito is an optimistic sweetheart that can melt anyone's heart. He also brings in the laughs with his naïve statements. Another highlight from the film is when Puss and Kitty are trying to outdo one another by being cute and Perrito falls apart during it.
The showdown duels between the wolf aka Death and Puss are executed well and look like comic book panels come to life on the screen. The presence of Death lingering around every corner brings great anxiety to Puss and the character is genuinely frightening as he intimidates Puss. Perrito comforts the anxious Puss during a heartwarming scene by laying his head down on his stomach as he calms Puss through his panic attack.
The screenplay of Puss in Boots The Last Wish by Paul Fisher and Tommy Swerdlow is moving and mature, discussing deeper themes that will resonate more with adults than the film's target audience of children. There are plenty of sight gags and pratfalls to keep them engaged, but overall, this sequel is deeply emotional in a way they might not understand. The film's final message of family and togetherness doesn't come off as preachy, but is earnest and sincere. The film ends with a satisfying ending that promises Puss's adventures aren't over as yet.
Topics