Razzies nominates 12-year-old for Worst Actress, Ana de Armas-starrer Blonde leads noms: 'Feels straight-up bullying'
Jan 24, 2023 04:00 PM IST
The 43rd Razzie Awards revealed their list of the "worst" films and performances of this past cinematic year. Many fans online felt their selection of 12-year-old Ryan Kiera Armstrong as the worst actress went too far. Ana de Armas-starrer Blonde leads the list with eight nominations.
The Razzie Awards unveiled their nominations with the "worst" films and performances of 2022. Oscar winner Tom Hanks and Pete Davidson were double nominees for their work this past year. Ana de Armas-starrer Blonde leads the list with eight nominations. Machine Gun Kelly's comedy Good Mourning followed with seven noms. But many fans online felt the Razzies went too far by nominating 12-year-old Ryan Kiera Armstrong as Worst Actress for her performance in Firestarter. (Also read: Blonde review: A nightmarish, unsettling reimagining of Marilyn Monroe's life you cannot watch more than once)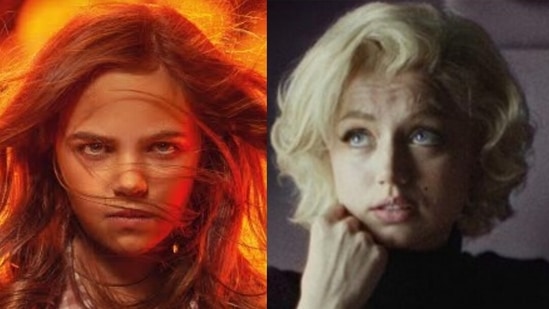 This isn't the first time the Razzies have nominated a child. Previously, actors Gary Coleman was nominated as a 12-year-old and Macaulay Culkin at 13 in 1994. One Twitter user shared, "We're picking on 12 year old girls now, Razzies? Cool cool cool." Another added, "The Razzies: 'yeah let's nominate a 12-year-old child actor for Worst Actress, surely there won't be anything damaging that could happen in her career in the future like blacklisting, bullying, abuse, depression, addiction, and suicide along the way.'"
Others felt the Razzies were just bullying some performers. One user wrote, "Maybe it's just me but nominating 12 year old girl for anything "worst" feels straight-up bullying to me. Then again, I never expected any class from this awful organization. No idea why they still exist. #razzies #razzieawards." One more user pointed out the organisation's double standards when it came to other issues in the past. They wrote, "The #Razzies in 2022: "We rescind how badly we insulted Bruce Willis and Shelley Duvall, that was just cruel. The Razzies in 2023: "Let's ridicule this 12-year-old girl for doing her best in a movie that wasn't great!"
Other films that found themselves with multiple nominations were Morbius, starring Jared Leto, Disney's Pinocchio, and the sequel to Netflix's widely-panned 365 Days. The awards which call themselves the "ugly cousin to the Oscars" will reveal their winners for their 43rd edition on 11 March, one day before the Oscars. They announced their nominations two days before the Academy of Motion Picture Arts and Sciences (AMPAS).
Check out the full list below:
Worst Supporting Actor
Pete Davidson - Good Mourning
Tom Hanks - Elvis
Xavier Samuel - Blonde
Mod Sun - Good Mourning
Evan Williams - Blonde
Worst Supporting Actress
Adria Arjona - Morbius
Lorraine Bracco - Pinocchio
Penélope Cruz - The 355
Bingbing Fan - The 355 and The King's Daughter
Mira Sorvino - Lamborghini: The Man Behind the Legend
Worst Actor
Colson 'Machine Gun Kelly' Baker - Good Mourning
Jared Leto - Morbius
Pete Davidson - Marmaduke
Sylvester Stallone - Samaritan
Tom Hanks - Pinocchio
Worst Actress
Alicia Silverstone - The Requin
Bryce Dallas Howard - Jurassic World Dominion
Ryan Kiera Armstrong - Firestarter
Diane Keaton - Mack & Rita
Kaya Scodelario - The King's Daughter
Worst Director
Judd Apatow - The Bubble
Colson "Machine Gun Kelly" Baker and Mod Sun - Good Mourning
Andrew Dominik - Blonde
Daniel Espinosa - Morbius
Robert Zemeckis - Pinocchio
Worst Screen Couple
Colson 'Machine Gun Kelly' Baker and Mod Sun - Good Mourning
Both real-life characters in the fallacious White House Bedroom Scene - Blonde
Tom Hanks and his latex-laden face (and ludicrous accent!) - Elvis
Andrew Dominik and his issues with women - Blonde
The two 365 Days sequels
Worst Screenplay
Blonde
Pinocchio
Good Mourning
Jurassic World Dominion
Morbius
Worst Remake/Rip-off/Sequel
Blonde
BOTH 365 Days sequels — 365 Days: This Day" and The Next 365 Days
Pinocchio
Firestarter
Jurassic World Dominion
Worst Picture
Pinocchio
Blonde
Good Mourning
Morbius
The King's Daughter