Scream VI trailer: Ghostface follows Jenna Ortega and the gang to New York City in this slasher film. Watch
Jan 19, 2023 09:34 PM IST
Scream VI trailer: As the survivors of the last film in the Scream franchise try to regroup in a new city, they meet some familiar old faces that help them take on Ghostface, yet again. The sixth film in the franchise will be released this March.
The trailer for Scream VI follows the survivors of the fifth from California to New York, with Ghostface on their trail. While they may have changed locations, the threat of death still hangs in the air for them all. The sixth film brings back returning cast members Melissa Barrera, Jenna Ortega, Jasmin Savoy Brown, Mason Gooding, along with previous film franchise survivors Hayden Panettiere and Courteney Cox. It also adds Jack Champion, Henry Czerny, Liana Liberato, Dermot Mulroney, Devyn Nekoda, Tony Revolori, Josh Segarra and Samara Weaving to the star cast. (Also read: Wednesday star Jenna Ortega says she never thought dance scenes would go viral: 'There was so much... I could have done')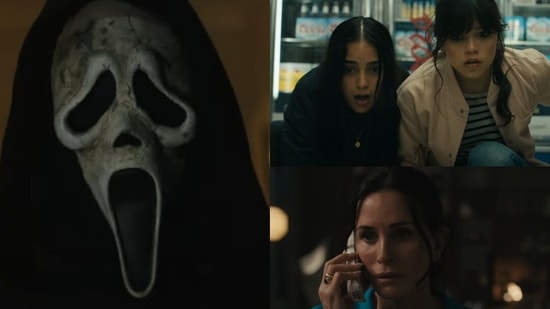 The official account for the franchise shared the trailer on Twitter with the caption, "This is unlike any other Ghostface. Watch the NEW trailer for #ScreamVI - Only in theatres March 10, 2023." In the trailer, siblings Sam and Tara, played by Melissa and Jenna respectively, are discovered by Ghostface and hunted down in a bodega. But they manage to escape and team up with their friends and other familiar faces who have dealt with Ghostface before and seek to take him down, once and for all.
The comments to the trailer shows that fans were ready for the latest showdown with Ghostface. One Twitter user wrote, "this might be the best scream film yet.. everything about this movie feels different then the rest. this ghostface is dark, aggressive and fulled with vengeance. im so ready for this!!!" Speaking about Courteney's return as crime reporter Gale Weathers, one fan warned, "you better leave gale ALONE." The film account replied back, "Now how can I say "no" to that?"
This sixth installment, directed by Matt Bettinelli-Olpin and Tyler Gillett, picks up where the fifth film ended. The screenplay has been written by James Vanderbilt and Guy Busick. The film is missing one familiar face as actor Neve Campbell has shared that she would not be returning as Sidney Prescott. Along with Courteney, Hayden reprises her role as Kirby Reed, while Dermot is part of the cast as a police officer.
The movie is releasing in US theatres on March 10, 2023. While the movie is set in New York City, filming for the slasher film took place in Montreal, Canada.
Topics