Shekhar Kapur: I don't know why people still call me a Bollywood director
Jan 24, 2023 06:17 PM IST
In an exclusive interview, filmmaker Shekhar Kapur talks about his film, What's Love Got to Do with It?, roots in Lahore, Bollywood and more
Shekhar Kapur is back in the world of cinema with his Hollywood project, What's Love Got to Do with It? The filmmaker's last feature-length directorial effort was the Cate Blanchett-starrer drama Elizabeth: The Golden Age in 2007. He asserts that he might have been away, but he is not detached from Indian cinema.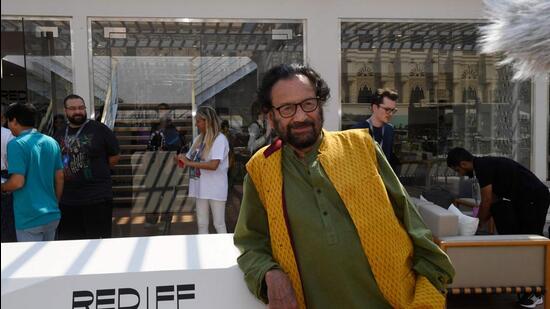 "I haven't made a film in India since the Bandit Queen (1994). I don't know why people call me a Bollywood director, unless you consider Mr. India (1987) and Masoom (1983) a Bollywood project. I don't know what describes Bollywood," Kapur tells us when asked about the long gap in an exclusive interview.
The 77-year-old continues, "It's been 30 years since I made a film in India. (In this time) I have been making films outside. I've been doing theatre outside (of India). I have done theatre in Germany. I've done a big series on William Shakespeare. I teach at MIT. I have had absolutely no time. I have been a part of the World Economic Forum. I am an environmentalist. So, life was busy. Then I found time to make a film, found a script and made -- What's Love Got to Do with It?".
When it comes to the film, the cross-cultural project is led by Emma Thompson, Lily James, and Shabana Azmi, and deals with the complexities of love, marriage, relationships and intimacy.
"Working on it was another exploration… Nothing is about defining things. When you see the film, you realise that at the end, the characters realise that we have to forgive, have to be compassionate. Because relationships are not about saying, 'I love you'.... Love is a mystery. It's a question of exploring that sense of mystery".
The film deals with the concept of arranged marriage in the age of Tinder, and the director admits that it became a fundamental reason for him to do the film. He says, "We all are looking for intimacy in our lives. When we are born, we are put on our mother's chest. That's the first act of intimacy that a baby feels. When we die, we want to hold somebody's hand. In between we complicate things, like if I put my hand around my friend's shoulder, you are dating. We developed these keywords which interfere with our desire and our need to be intimate".
Explaining his thought, the filmmaker admits, "In the film, one fundamental question is how do you know if it will work if you haven't had sex before marriage? When I was 18, I was a chartered accountant. I came back to India and my mother took me to meet some girls. The question in my mind was how do I know if it will work unless I have had sex? What is sex on the first night was a disaster? There's an exploration of how it might work the other way. I've asked them all my life".
He has infused his Lahore memories to the films as well. But border tensions are something which continues to restrict the exchange of art between the countries.
Asked about the same, he says, "Art always transcends international boundaries, and it should do".
"Not that I can't appreciate an artist. That is another culture of another nation. So art transcends international boundaries, definitely," he ends.