BTS fans praise beefed up French security during Jimin's Paris departure: 'Like the president of the world'
Jan 23, 2023 02:10 PM IST
BTS member Park Jimin is on his way to Seoul after making his debut at Paris Fashion Week. Meanwhile, J-Hope is likely to attend a few more shows at the event.
BTS member Jimin, who was in France, is returning to his city, Seoul, South Korea. He was there to attend the Paris Fashion Week as a global ambassador of Dior. On Monday, pictures and videos of Jimin who made his debut at the fest, arriving at Charles de Gaulle airport for departure surfaced online and fans were impressed with the tight security provided to the K-pop star. Also read: BTS' Jimin and J-Hope flash heart signs at fans as they head for Paris Fashion Week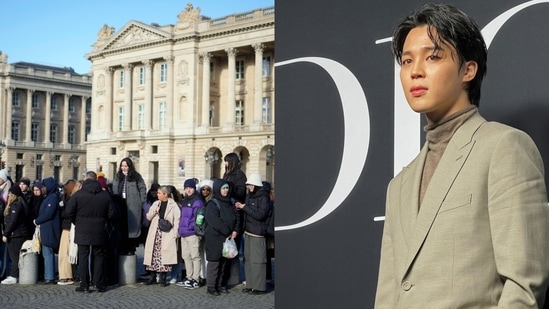 At the airport, Jimin wore a white t-shirt underneath a trench coat. He didn't miss out on his beanie and sported a mask while greeting some people at the airport. Several bodyguards and security personnel were seen walking beside him.
Reacting to the video, a BTS fan aka Army wrote on Twitter, "I was impressed with Paris' treatment of Jimin, the way security team's service take care and protect Jimin is the best. To BH, I hope Jimin is treated well as he arrives at SK (South Korea) airport." "Never getting tired of seeing Jimin with the security he needs and deserves," added another one.
Someone also tweeted, "Wow, it looks like Jimin's departure was so much more controlled than his chaotic arrival. So much security. Excellent. It should be decent in SK too." Some also claimed the same bodyguard was deployed last year when Kim Taehyung aka V attended the Paris fest for the Celine show. "They treat him like the president of the world. This is how a real treasure is treated," added yet another fan. However, this is not the first time that BTS received top-level security overseas. Earlier during the FIFA World Cup 2022, Jungkook received tight security, followed by Jin getting security in Argentina.
Meanwhile, J-Hope is still in Paris. He is expected to attend a few more shows. The Arson singer attended the Dior Fall 2023 Menswear Fashion Show after being at the main event of the Louis Vuitton 2023 F/W Fashion Show. He wore a dark grey ensemble with boots of his choice and a chain necklace. He elevated the look with a matching demi-skirt with an attached buckle at the waist. He also sported sunglasses.
On the other hand, Jimin debuted in a monochromatic look which included a muted tan suit over a turtleneck. It was paired with tonal boots. This was his first show at the festival. BTS consists of RM, Jin, SUGA, J-hope, Jimin, V and Jungkook.