BTS' Jungkook addresses rumours of upcoming album, gets drunk while talking to fans online as V joins him
Feb 02, 2023 03:31 PM IST
BTS member Jungkook broke his social media hiatus with a four-hour long live chat with fans. He was joined by fellow BTS member Kim Taehyung aka V.
BTS member Jungkook surprised fans aka BTS Army with his Weverse Live session. He was missing from social media for some time until he broke his silence with an impromptu chat with fans and poured himself a few rounds of drinks. His dog also made an entry during the live chat. The real treat was V aka Kim Taehyung, who also joined Jungkook during the live, which went on for almost four hours. Also read: BTS Yet to Come first reactions are in: Fans say 'bring tissues, there is a plot twist'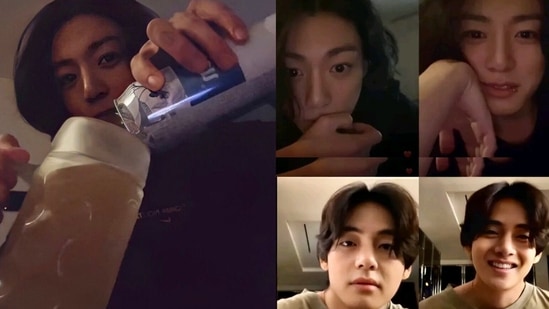 Jungkook clarified rumours about his absence from social media and said he wasn't working on any album, as many had earlier speculated. Instead, he said he was chilling at home and enjoying his free time. He said, "I have put an all stop, on preparing my album and I think it's become like a habit. I haven't been doing anything, and I like this, not doing anything. and I think I have said this before, but if I was to be reborn, I want to be a rock. and I feel like right now I am like a rock."
He showed his tattoos to fans and sang songs such as Dreamers, Still Life, Jimin's Vibr and RM's Wild Flower. However, when asked him to sing RM's Sexy Nukim, he refused. "His English is too good, so won't try," Jungkook reasoned. He also responded to questions about Jin who is serving in the Army, and informed fans, "I think Jin hyung's been well. he occasionally sends a message in the group chat."
RM crashed in the comment section during the live and wrote, "Please marry me." Soon after, Jungkook's pet dog Bam appeared in the live. The singer gave him hugs and told him to wait as he continued the live.
Meanwhile, member V aka Kim Taehyung joined Jungkook during an Instagram live and left fans even more surprised. The two read fan comments. Amid this, V wished to see all members of BTS – come together for a live session from their locations. He asked their agency Big Hit and said, "Hey Jungkook. Let's ask them if we can do a Weverse live later. All of us together, like a zoom meeting."
Reacting to Jungkook's chat with the BTS army, one fan wrote on Twitter, "This man comes to live very often but when comes, spends hours with ARMYs, sings for ARMYs, talks to ARMYs. He must be missing ARMYs too much that spend hours last night. He is always honest. We love you Jungkook." Anther one said, "Jungkook said he didn't go out for several days, and the company didn't let him solo, and the live felt that his mental state was not very good."
Jungkook made news last year with the FIFA 2022 World Cup anthem, Dreamers. Taehyung, on the other hand, is gearing up to star in an upcoming reality show with his Wooga Squad, which is made up of V, as well as Peakboy, Park Seo-joon, Choi Woo-shik and Park Hyung-sik.