BTS' V misses Jin and shares new details about him; singer reveals playing video games with Jungkook
Jan 24, 2023 04:04 PM IST
BTS: V spoke about himself, Jin and Jungkook during his Weverse live session. Here's what he said.
BTS member V surprised his fans on Tuesday as he held a live session on Weverse and spoke on a host of topics. Taking to the social media platform, V aka Kim Taehyung also talked about Jin, who is currently undertaking his mandatory military service. He also revealed that ahead of his live session, he was playing video games with friends including Jungkook. (Also Read | Jin shares first pics after joining military service, posts message for fans)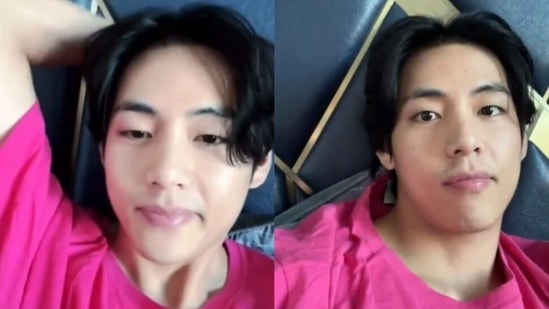 V's first live session was held for a few minutes during which he greeted his fans and wished them for the Korean New Year. He said as quoted by Twitter user @BTStranslation_, "Receive a lot of blessings for the New Year, everyone! (happy new year)." Later he also added, "On the Seollal Day, I ate meal together with my family and I also ate outside with my family."
V also told his fans that he held the live session as he was bored. He added, "I'll come again later when I feel bored. I don't really use the phone a lot these days. I ordered some expensive strawberries.. I'll now go to eat them. You guys, be happy, be healthy.. don't get sick. Do well and work hard today as well and receive a lot of blessings this new year and be healthy and happy and don't get sick or hurt. Bye."
During his second live session, talking about his game, V added, "I was playing a game with friends. There's Jungkookie too. I was playing but if (someone) in the game dies and (they) might say something that's not supposed to be said in a live, so I came back after turning it off (talking about the last live)."
V also talked about Jin and Jungkook. He said, "I've been fully resting these days well. I haven't done anything and. I work on music sometimes when I remember it but it's not the usual. I must work on it (from) now (on)." Speaking about Jin, V said, "Around this time, Jin hyung pops up saying 'hi, yo' or "Vo" (in the comments).. hyung said he is working hard right now.. he contacted us."
BTS' eldest member Jin recently treated his fans with the first official glimpses of himself after joining the South Korean military. He posted several images from the military training graduation ceremony on Weverse. He captioned the picture, which read, "I'm enjoying my life. I'm posting pictures after getting permission from the military. ARMY, be happy and take care."
On December 13, 2022, Jin formally reported for duty. A front-line army division's boot camp in Yeoncheon, 60 kilometres north of Seoul, is where Jin has reportedly been receiving training, according to news agency ANI.