DJ Diplo wears 'Aishwarya Rai' t-shirt at Lollapalooza in Mumbai, fans say 'westerners trying to appeal Indian masses'
Jan 30, 2023 02:46 PM IST
DJ Diplo sported a black sweatshirt with Aishwarya Rai's name and picture printed on it as he performed at the global musical festival Lollapalooza in Mumbai on Sunday.
American DJ Diplo set the stage on fire on Sunday as he gave a powerful 90-minute performance on the final day of the global musical festival Lollapalooza in Mumbai on Sunday. But what also caught the eye was how Diplo wore a black sweatshirt with former Miss World and actor Aishwarya Rai's name and picture printed on it. Also read: Aishwarya Rai joins Abhishek Bachchan, Jaya Bachchan leaves early; Salman Khan also attends Subhash Ghai's birthday bash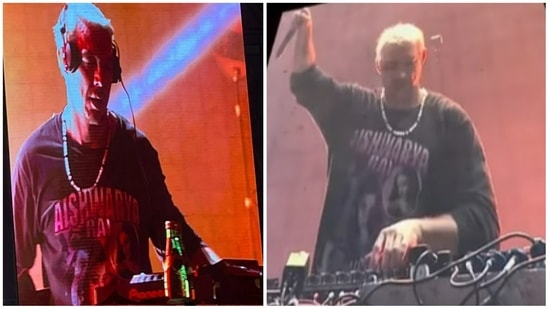 Diplo played various hit tracks, including Lean On and Where Are You Now, along with the Punjabi song Mundian Tu Bach Ke. As a picture of him from the festival was shared on Reddit, fans of the DJ couldn't stop praising him for the gesture.
A fan wrote, "I need that shirt." Another called it "Vocal for local abhiyan (mission)." A Reddit user said, "Westerners trying to appeal Indian masses." One more comment read: "I think it's cool that he's wearing it to a Mumbai show though even if he's just trying to pander to the audience. If I was an artist I'd probably do the same if I was travelling to different countries for shows."
Later, when someone asked him about the t-shirt, he was aware about her winning a beauty pageant but wasn't sure which one. He said, "Woman of all time, miss universe, she won miss universe, and then she became an actress, right? afterwards."
Rock band The Strokes and Indian rapper Divine also enthralled the audience on Sunday. The Strokes performed their evergreen songs like Last Nite and Take It or Leave It. Julian Casablancas, the lead singer of the rock band, said during their time on stage, "I watched Pathaan last night and I am very inspired."
A crowd of thousands attended the musical extravaganza to hear their favourite artists at the Mahalaxmi racecourse. Divine got everyone grooving to his songs including numbers like Mirchi, Kaam Pachees, and Baazigar. The rapper also paid tribute to the late rapper Sidhu Moose Wala by playing one of his songs. He said, "I am blessed to have worked with Sidhu, we won't let the music die."
K-pop star Jackson Wang greeted his Indian fans with 'Namaste'. He performed some of his greatest hits like Go Ghost and Come Alive. The opening performance on Sunday was given by Aadya followed by Apache, Parimal Shais, and Raveena. The main highlights of the final day of the two-day event included performances by the US-based band Cigarettes After Sex, and Indian singer and songwriter Prateek Kuhad among others. At least 40 artists performed at the festival across four stages in two days.
(With PTI inputs)