Girl group XG: We want to meet all the ALPHAZ in India
Feb 02, 2023 02:38 PM IST
In an exclusive interview, global girl group XG talks about their rise to fame, planning a world tour and their love for India
The girl group XG — comprising Jurin, Chisa, Hinata, Harvey, Juria, Maya and Cocona — are forging their own path in the world of music with their "global" group, which is known for crossing boundaries through their music. The seven-member hip-hop and R&B girl group made their world debut in 2022, after preparing for it for five years, with the track Tippy Toes, which went on to cross 17 million views on YouTube. The all-Japanese act, who performs in three languages — English, Japanese, and Korean — released their third single, Shooting Star, last month and hinted they would love to go on a world tour now. So, we caught up with them exclusively and among other things,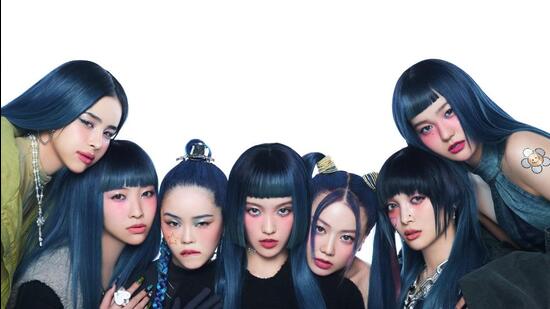 Here are excerpts from an exclusive interview:
* You made the right noise with your songs -- Mascara, Galz Xypher and Shooting Star. How do you look back at the inspiration for the singles?
JURIN
We expressed to the fullest all the things that we've built up and learned with Galz Xypher and Shooting Star. We believe we fully expressed our individuality and uniqueness with these projects, so I'd be happy if everyone could understand what I mean.
HARVEY
I felt a great sense of accomplishment. We are inspired by all kinds of music, ranging from the 80s to the 2000s! We not only incorporate things into our performances, but also our fashion!
* With the band getting in focus, how do you think you have evolved as a band and individual?
COCONA
This goes for both XG as a group and us as individuals, but I realised the importance of reflecting back on the experiences we've had without focusing too much on what it means to be us! I think it's incredibly important to prioritise things that I love or things that I enjoy, rather than overthinking what suits me. I think that's what's changed the most.
* In fact, you appeared on many Korean music TV shows and received a great response for Mascara. Tell us a bit about it?
JURIN
It was a new experience for us, so there was a lot of anxiety. It definitely wasn't easy stepping into this new world and taking on this big challenge. Diving headfirst into the world of K-pop, which is currently becoming a global phenomenon, allowed me to learn a lot, and also stimulated me greatly. It really made us want to focus even more and work harder, so that was a great experience.
* How do you think the girl band is taking hold of the baton and re-define what it takes to be a global group with inspiration of hip-hop in this decade?
HINATA
Nowadays, people tend to like a person for their humanity, charisma, music, character, and fashion style rather than looking at gender. We want to keep doing what we do, and continue to make out-of-the-box music that is unique to XG!
HARVEY
XG has the word "extraordinary" in it, and our message is to live our lives in our own way and not be bound by stereotypes! We want to continue to release music that can be enjoyed by everyone! It is important that more and more people, regardless of gender, are able to release and enjoy music the way they want to!
* What are the goals you have set as a group and individually?
HARVEY
I definitely want to do a world tour someday! This is something that we've dreamed of accomplishing both as a group and as individuals! Not only do we want to do a world tour, though, we also want to appear in tons of events and festivals, and have more people around the world know about XG!
* You want to do a world tour, what about coming to India?
JURIA
While nothing has been set in stone, I'd love to go on a world tour someday, and perform in India, too! I'll work hard to make that dream a reality!
MAYA
While there's nothing decided yet, we're definitely going to make a world tour happen some day!! Of course, we want to meet all the ALPHAZ in India as well, so we'll work hard to make that day happen soon!
* How do you describe the love you get from India?
HARVEY
Thanks for leaving so many comments on our posts, they give us so much energy! Everyone gives us so much love, it really makes me emotional! I'll even look back at older comments to help me get motivated! I can't express how grateful I am!
* Has anything about Indian culture or music influenced you?
CHISA
I love Indian curry and naan! If we ever visit India, I'm definitely having some!
HARVEY
I've been watching music videos by Indian artists for a while now, and they've inspired me so much! There are so many innovative and cool music videos, so I watch them when I want to be creatively inspired!
COCONA
Personally, I love Indian clothes! The shapes, designs, everything is so great, and I'd love to wear them if I ever get the opportunity!
MAYA
Since India has a huge Bollywood culture, I've watched a lot of videos. I've really been stimulated and inspired by both the music and the dances!!
* Do you have a message for your Indian fans?
CHISA
Thank you for always supporting us♪ We're definitely coming to see you when we can do concerts, so stay tuned! I love you guys!
JURIA
We'll work super-hard to make sure XG gets big and can do a world to
you and visit India!! I can't wait to meet you all!
MAYA
More than anything, thank you so much for always cheering us on! I really want to meet you all in person and tell you directly!! I can't wait for the day that we can meet you all, and I hope you look forward to what XG has in store from here on out!