Jackson Wang arrives in Mumbai to perform at Lollapalooza India; greets fans with namaste at airport, gets mobbed. Watch
Jan 29, 2023 01:54 PM IST
K-pop star Jackson Wang arrived at the Mumbai, where he seemed to have had a hard time getting through the parking lot at the airport as eager fans mobbed him to click selfies. He will be performing at Lollapalooza India.
GOT7 star Jackson Wang has finally arrived in Mumbai and fans could not hold their excitement as they rushed to see him and take selfies with him as he arrived at Mumbai airport. Jackson is in India for his Lollapalooza India performance. The music festival will be making its debut in India this year and will be held at the Mahalakshmi Race Course in Mumbai. He will be performing on Sunday. (Also read: BTS fans praise beefed up French security during Jimin's Paris departure: 'Like the president of the world')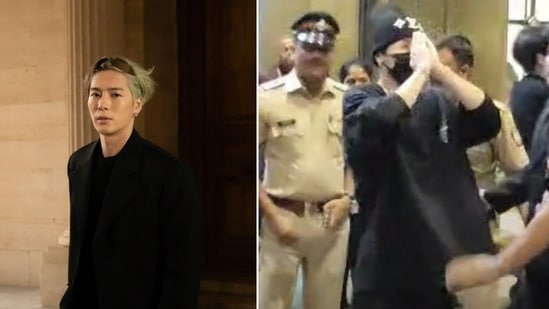 The singer was mobbed by fans as he arrived at the Mumbai airport. The fans rushed towards him for clicking selfies as he tried to make his way to the parking lot. Jackson was seen in an all-black ensemble and looked a little tired being surrounded by so many people at once. His videos from Mumbai airport have been doing the rounds on social media, where enthusiastic fans surrounded him to click selfies. Jackson greeted fans with namaste as he arrived outside the airport.
Even as Mumbai Police personnel were there to guard him and safely take him to his car, it seemed that Jackson was having a hard time among so many people. Netizens were quick to spot the discomfort and reacted to his video shared on a paparazzi account on Instagram. One user wrote, "At least leave some personal space for him , looks like management fails big time." Another comment read, "The power he holds... The crowd was so big even tho it was midnight but am not really satisfied with security, please make sure it's well managed next time and some of the fans did disappoint me please make sure his safety is our top most priority, okay!!"
Jackson also tweeted about his arrival in India and how excited he was to perform her for the first time. He wrote, "Thank you for being there today India, please get home safe. It means a lot to me to seeyo u all. After wanting to come here for a decade. I'm so grateful, finally I'm here. I hope I see you..."
Lollapalooza Day 1 had a line-up of several artists who performed on the stage including AP Dhillon, Greta Van Fleet, Japanese Breakfast, Yellow Diaries, Imagine Dragons and Madboy Mink among others. Day 2 will see performances from artists such as Divine, Diplo, Cigarettes After Sex, Jackson, Raveena and Prateek Kuhad, among others.
Topics