Jin bags first place at military talent show, gets vacation as reward: reports; fans say 'Run BTS really prepared him'
Jan 30, 2023 07:47 PM IST
Jin, reportedly, secured first position at a military talent show. Fans believe that 'Run BTS really prepared him to win'.
BTS' eldest member Jin, who is known for being multi-talented, has added another feather to his cap, over a month after he joined the mandatory military service. As per a new report, Jin won the first position at a talent show. Jin, earlier this month, completed his five weeks of training and attended his completion ceremony. (Also Read | Jin shares first pics after joining military service, posts message for fans)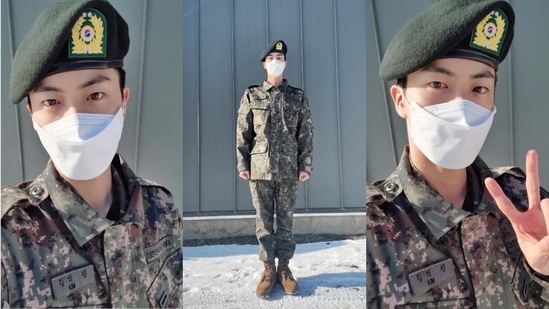 According to a K-pop portal Allkpop, it was reported that Jin's team secured first place at the talent show celebrating Seollal in the military. His team, as a reward, reportedly also got an extra day of vacation. As per the report, Jin taught dance moves to his teammates inching them closer to the first position.
Reacting to the news, a fan tweeted, "Not only he is worldwide handsome but also a worldwide winner." Another person said on Twitter, "Well deserved, Jin!" "Run BTS really prepared Jin to win that military talent show," teased a Twitter user. "My Jinnie I missed you. I am so happy you will get to meet your family and BTS family. Also, you will post I know and maybe a live, if it's allowed," read a comment. "Imagine being in the military and having to go up against Jin from BTS for a talent show," wrote another fan.
Earlier this month, Jin treated his fans with the first official glimpses of himself after joining the military service. He posted several photos from the military training graduation ceremony on Weverse. He captioned the picture, "I'm enjoying my life. I'm posting pictures after getting permission from the military. ARMY, be happy and take care."
In a picture, Jin stood with his arms at his sides while wearing his uniform, pairing it with a black face mask. Jin looked into the camera while taking a selfie, giving fans a closer view of his face. Another photo showed him making the victory sign. On December 13, 2022, Jin formally reported for duty. A front-line army division's boot camp in Yeoncheon, 60 kilometres north of Seoul, is where Jin has reportedly been receiving training.
Prior to leaving for his military service, Kim Seokjin filmed a video. "I won't be a civilian anymore by the time this is out but I'm here in front of the camera because I wanted to leave you something even if it's just leaving a message...I may not be by your side at this very moment but I'll go looking for you soon so if you just wait a little bit. I'll be back soon. That's all for today. Next time, when I have the chance I'll be back with another video. See you then!"