Madonna dances to Lady Gaga's Bloody Mary in viral Wednesday clip, fans react: 'Both queens, now collab'
Feb 02, 2023 06:18 PM IST
Singer Madonna uploaded a TikTok video of her dancing to Lady Gaga's Bloody Mary in the viral Wednesday dance clip. Fans reacted enthusiastically to the video and even called for a collaboration between the two popstars. Watch the full clip here.
Madonna is the latest star to have jumped onto the bandwagon of celebrities recreating the viral dance of Jenna Ortega's character in the Netflix's hit series Wednesday. The 64-year-old Queen of Pop shared a video where she was seen recreating the viral dance scene to Lady Gaga's Bloody Mary from her 2011 studio album Born This Way. (Also read: Wednesday star Jenna Ortega says she never thought dance scenes would go viral: 'There was so much... I could have done')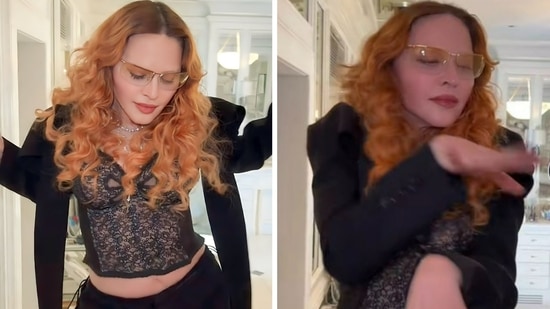 In the video, Madonna wore a lace bustier, and paired it with black trousers and a chic black blazer. She accessorized the entire look with transparent sunglasses, a diamond cross necklace, and a giant cocktail ring on her right hand. She didn't add any caption on the post. Many fans were surprised by Madonna's inclusion of Lady Gaga's song because of the long-standing feud turned friendships between the two stars. Recently, Lady Gaga had commented on Madonna's TikTok video message where she made the announcement of her Celebration Tour saying, "We love you M."
Fans were quite to comment on the video as many fan pages posted the clip on social media. A fan said, "Mothers of pop! Now when are they ever gonna collab so we can have world peace?" While another enthusiastic fan said, "yas both queens, now collab." Another fan also demanded a collaboration of both Madonna and Lady Gaga saying, "We need Gaga and Madonna in a collab. What could sound better than 2 queens in 1 song?"
Meanwhile, Wednesday actor Jenna had been asked whether she keeps note of the viral dance video and the numerous reactions to it on TikTok, the 20 year-old said, "No, I can't be on TikTok. I can't look into all of that stuff. I think, good or bad, it's probably not a healthy place to be." Wednesday stars Jenna as the titular character along with Christina Ricci, Catherine Zeta-Jones, Luis Guzman, and Gwendoline Christie. The series premiered on Netflix on November 23 2022.