Too good to be true: Delhi-based band Bloodywood on mainstreaming folk metal
Feb 06, 2023 12:45 PM IST
With upcoming performances at some of the most popular music festivals such as Download and Sonic Temple, the Delhi-based folk-metal band, Bloodywood, talks about defying all genre boundaries to create head-crushing music, along with their socially conscious lyrics that leave a lasting impression
Delhi-based folk metal outfit Bloodywood has slowly but loudly taken the music world by storm, thanks to their headcrushing metal music with socially relevant lyrics. The band, founded by guitarist-producer Karan Katiyar and vocalists Jayant Bhadula and Raoul Kerr, is all set to perform at some of the biggest metal fests in the world, including Download Festival and Sonic Temple.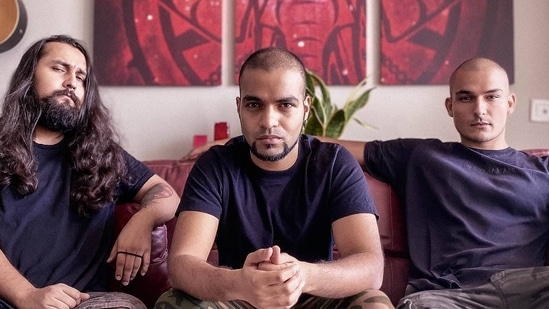 Calling it "too good to be true", Kerr tells us, "At the same time, it's also quite believable. We have dreamt of stages and moments like these since we became musicians. Luck has played a part, but we've also put in a lot of work into what we do, so we feel we deserve it. We know we belong on the biggest stages the world has to offer."
Founded in 2014, Bloodywood has been creating waves in the Indian and international music scene with their blend of Western metal music and Indian instruments such as tabla and dhol. The band's debut album, Rang De Basanti released in 2016 and was met with much critical acclaim and appreciated by peers.
"It's a great feeling. We are very honoured by all the appreciation we have received. It's a special moment in an artiste's career when they feel proud of the music they make and it's appreciated by the audience and the industry as well. On that note, we do have bigger ambitions and goals for ourselves. We are enjoying the moment. but we are also gearing up for the next move," adds Kerr.
From Machi Bhasad (Expect a Riot) to Gaddaar (both 2022), the musical outfit has consistently composed tracks that address social issues. Ask what drives them to do so, and Kerr says, "We want to use our music to make a positive impact on the world, so the message and lyrics are very important to us."
"We have always been the ones to put the most pressure on ourselves and have always used that pressure in a good way to achieve our goals. We have learnt the value of rest though, it's about working smarter as well as harder," he signs off.