Cassandro review: Gael García Bernal triumphs as a gay wrestler
Jan 27, 2023 01:37 PM IST
HT at Sundance | Cassandro review: Premiering at the Sundance Film Festival, Cassandro stars an electric Gael García Bernal as the Liberace of lucha libre, powering the uplifting yet predictable biopic directed by Roger Ross Williams.
Just when the endless chain of biopics seemed to enter a saturation point, there arrives Cassandro, the feature film debuting at the Sundance Film Festival, about the first openly gay wrestler from Mexico. What's more is that Gael García Bernal gives the performance of his career as the flamboyant 'Liberace of lucha libre,' who won't hide behind a mask at the cost of homophobic stereotypes. (Also read: Fancy Dance review: Lily Gladstone is sublime in well-crafted tale on resilience)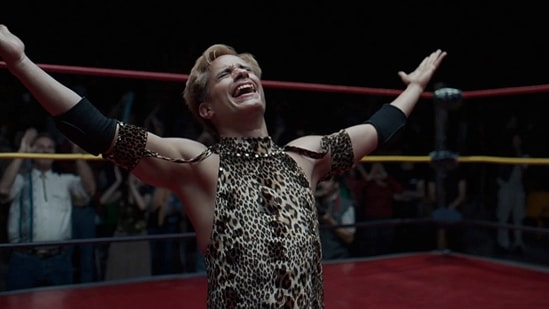 For director Roger Ross Williams, this is a territory that is not entirely remote. He had made a short film about Saúl Armendáriz titled The Man Without A Mask. Cassandro explores his life with more depth and attention. Starting off in the 1980s at the Mexican/American border in El Paso, Williams introduces Saúl as he prepares to get ready in the make-shift tent just beside the ring. His lucha libre character is named 'El Topo,' and the rules are pre-destined for them to lose for the brutish, more masculine técnico wrestlers. Here he is thrown around by Gigántico, and even if he would want a good fight, there is no way he could challenge his opponent for a win.
Saúl meets local pro Sabrina (Roberta Colindrez) and convinces her to be his trainer but in a new avatar. He wants to go in the ring as 'Cassandro,' and shows her the designs of the costumes Cassandro would wear. Back home, his mother (played by a superb Perla de la Rosa) tries to be as supportive as possible, but doesn't hide that Saúl is in many ways the reason why his father left them. There are little flashbacks, gently edited by David Teague, that show us Saúl's childhood and how he came out to his father, leading to his abandonment.
Yet, Cassandro never really builds into the obstacles that come his way. When he first tells the ringmaster that he intends to win, he vehemently opposes the decision and instructs not to go against the traditions. When Cassandro enters in his costumes, the audience boos him tremendously, yet the tide gently shifts to the opposite as he expertly manoeuvres their old moves to win the round. These lucha libre sequences are the highlight of the film, powered by the fabulous score of Marcelo Zarvos that will leave you cheering. Williams, who co-wrote the screenplay with editor David Teague, also pays attention to the important role that women played in Saúl's life in bringing Cassandro to the stage.
Even if the stakes never quite reach that impending sense of showdown, with some of the subplots pulling down its pace, and the later half becomes a tad too predictable for its own speed, Cassandro is saved by the electric lead performance of Gael García Bernal. The Mexican star is a delight in the signature blonde hairstyle and never employs to cheap drag impressions that might seem the easy approach for such a role. Bernal embraces his character who is wrestling within himself for most parts, his jagged movements away from the glitz so utterly contrasted to his boisterous thrusts in leopard-printed outfits. In one unforgettable scene, he drives with his mother back to their childhood locality where she recollects each of the houses they delivered clothes earlier. It is in these quieter, aching moments where Cassandro truly shines.