Eileen review: This unhinged mix of Carol and Hitchcock ultimately disappoints
Jan 26, 2023 12:22 PM IST
HT at Sundance | Eileen review: Thomasin McKenzie and Anne Hathaway cannot save William Oldroyd's frustratingly impatient and gloomy adaptation of Ottessa Moshfegh's work.
For those who have read the fascinating book by Ottessa Moshfegh, the surprises won't obviously register in the feature film adaptation by Lady Macbeth director William Oldroyd. But the ones who know the twisted logic of the source material, are aware that it is more interested in the character study than being a suspense thriller. Yet, as Eileen advances towards its shocking twist with ice-cold readiness, the payoff fizzles out of thin air in disappointment. (Also read: Poacher review: Richie Mehta crafts an atmospheric tale on illegal ivory trade)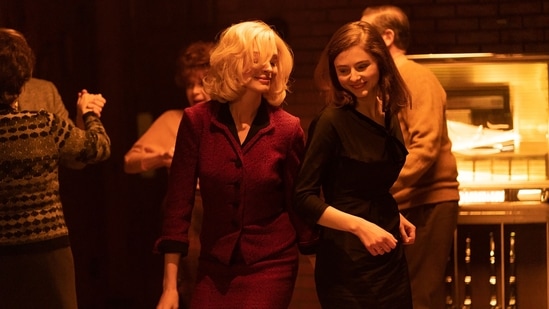 Eileen, which premiered at the Sundance Film Festival, immediately sets off for a Hitchcockian foreboding with that title font, and introduces its 24-year-old titular character, played by Thomasin McKenzie, who spots a couple making out inside their car. She can't help but look for more, even as she has to head back to her drab juvenile prison duties. Back home, she has to take care of his crass, alcoholic father (an underutilized Shea Wigham), a former police officer who now occasionally flashes his gun in the neighbourhood.
Stay tuned with breaking news on HT Channel on Facebook.
Join Now
Of course, an inevitable shift occurs with the arrival of Rebecca (Hitchcock references are always cool, even when it's so in-your-face) played with sultry charm by Anne Hathaway. She's a blonde with some of her own ideas, who begins her work at the prison and immediately connects with Eileen. She starts to wash more regularly and wears more pretty outfits. Rebecca asks her out and Eileen promptly accepts. Both of them dance in an unforgettable scene, and then share a sweet kiss that sends Eileen into a daze- how did she come to this moment? Meanwhile at her workplace too, she has eyes set on a peculiar case of an inmate named Leo Polk (Sam Nivola) who has killed his father with a knife. Rebecca wants to dig deep, she wants to know why. Polk's mother (Marin Ireland) is called.
Eileen attempts to build its subtext for a twisted payoff in the later half of the film, but Oldroyd never fully draws in the complexity of the protagonist as groundwork to turn into that twisted dimension. In the book, Moshfegh cuts Eileen as someone who is steeped in self-hatred and body issues- whose wild fantasies are her only escape. Point in case, this passage from the book: "That night I lay on my cot and poked at my belly, counted my ribs, squished at my guts with gloved fingers. It was cold up in the attic, and that cot was flimsy. It just barely bore my weight: one hundred pounds with clothes on, if that." Eileen the film barely makes that cut in the a screenplay by Luke Goebel and Moshfegh, and instead McKenzie hovers around in her deceased mother's clothes with a quiet but firm sense of affirmation. The chemistry between her and Rebecca barely develops- even as comparisons to Todd Haynes' Carol are inescapable to a fault. The scene, arriving with a carefully concocted energy, then escalates.
The scene-stealer in Eileen amidst the dual, effective performances of McKenzie and Hathaway is Marin Ireland, whose shattering monologue in the third act is so carefully orchestrated that her narrative fights its way up to the foreground. But Eileen is not interested in her story, and the gasp-inducing twist ultimately becomes forced and infuriating. Precisely because cinematographer Ari Wegner's work here is brilliant throughout, and combined with Richard Reed Parry's jazz-induced score, together they continuously yearn to amplify Eileen's turn towards the dark.
Eileen, for all its lush promise and pull, never really knows what kind of film it wants to be. You never quite know what you are watching either- a bitterly resolute queer romance, or a pulpy psychological thriller. The shift feels never quite achieves that sense of unhinged, sinister gravity. Frustratingly impatient yet gloriously alluring, Eileen's woozy ambitions never quite matches its magnetic heroine.