Passages review: Ira Sachs' relationship drama dazzles and frustrates
Jan 28, 2023 09:08 PM IST
HT at Sundance | Passages review: Ira Sachs' brutally honest yet frustratingly reserved study of modern relationships is a messy, exalting triumph.
"Are you going to stay for a long time?" Agathe (Adèle Exarchopoulos) asks Tomas (Franz Rogoswki) the moment he arrives at her apartment leaving his longtime partner Martin (Ben Whishaw). Agathe is fully aware of Tomas and Martin's affair- she gets to know him through Martin, and yet the suggestion that she can seduce a gay man is too good to let go. But at the cost of what? It is in these small transgressions that Ira Sachs's explosively sexy and gorgeous film builds on. (Also read: Smoke Sauna Sisterhood review: One of the best documentaries of the year)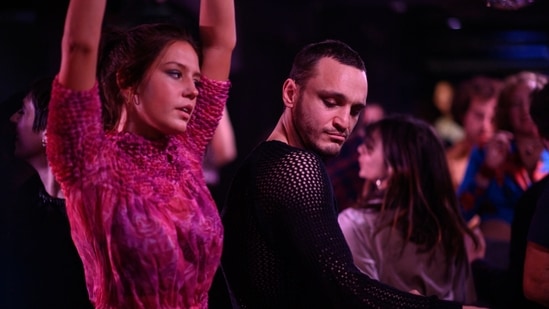 That Tomas is a massive narcissist doesn't take long to register in the very first scene- he is a progressive film director based in Paris who calls the shots, and his need for perfection in a not-so-essential sequence of his film is key to understand how much a tantrum he can be sometimes. Or most times. After the film's final day, Tomas is accompanied on the dance floor by a bored friend of the crew named Agathe- yet Passages is too electric a film to persist on that emotion for long, and their bodies collide to thrilling sexual tension. They have sex, and Tomas confronts Martin directly- who even without a word tells us the history of this toxic relationship. He storms out, and is soon drawn into a relationship with an upcoming French novelist, Amad (Erwan Kepoa Falé).
The curious case with Passages is how Sachs, working here with a script co-written by Mauricio Zacharias, treats these characters with no impending moral compass. There is no question that Passages undertands that both Agathe and Tomas are also part of the problem when they deliberately choose such a glaring red flag of a man that is Tomas. Yet it lets them be, pushing them to lie and cheat and manipulate each other with blistering self-destruction. Do not expect this to turn into a study of bisexuality. Passages even might be too predictable for some- it does become so once Tomas is stripped off his circling around people trick without any care. The only person he cares for is himself- and Rogoswki nails that self-entitlement, having a ball in those moody wardrobe choices (one hilarious scene occurs when he comes to visit Agathe's parents for the first time in a crop top) and impatient body language. He is either always late or somehow invading someone else's privacy for no other reasons than his own.
Passages cleverly avoids any tonal shifts throughout its 91 minutes of screen time and circles away from some of the most conventional narrative turns to turn into a love triangle. No threesomes, no soapy confrontations. Sachs barely cares for the dramatic monologues or the history of these characters- clearly no justification can serve these flawed, wounded people as their redeeming pay off. The sex scenes here are key points of interrogation- notice how cinematographer Josée Deshaies carefully uses them to place Tomas' body in the scenes, not his face. In doing so, he saves us from feeling anything for him further than necessary. The deliberate remove wants to frustrate in equal measure, resulting into an intelligent finale that doesn't sacrifice any of its emotional truth.
Passages owes a lot of this emotional authenticity to its actors- who understand and channel out the reserve of this scarring study of sexuality. Ben Whishaw is excellent as Martin, hiding an ocean of reserve that Tomas never sees. Adèle Exarchopoulos never makes Agathe a victim, and almost steals the film to draw in her orbit- she clearly has the film's withhold sympathies. But Passages is meant to test us with Tomas, and Franz Rogoswki confronts the hideousness of his character with sufficient poise and charm. If you don't want to throw things at Rogoswki's petulant man-child then what's the point? He is almost always running away from something or the other- but as Sachs draws Passages into a thrilling live-wire close, the emptiness of those spaces finally begins to take hold. Even if he wants to stay, its not always his choice.
"Exciting news! Hindustan Times is now on WhatsApp Channels
Subscribe today by clicking the link and stay updated with the latest news!"
Click here!
Get more updates from
Bollywood
,
Hollywood
,
Music
and
Web Series
along with
Latest Entertainment News
at Hindustan Times.