Sharman Joshi plays a pregnant man in Congratulations: 'The weight I put on in two months was embarrassing'
Jan 23, 2023 10:55 AM IST
Actor Sharman Joshi talks about working on 3 Idiots, Rang De Basanti, his first Gujarati film Congratulations, and recalls a few anecdotes from his childhood, in an exclusive interview with Hindustan Times.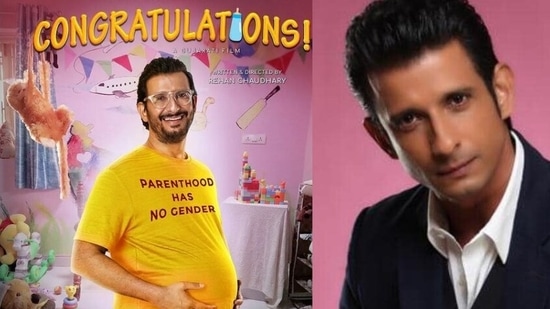 Actor Sharman Joshi, best known for his roles in films such as 3 Idiots and Rang De Basanti, is all set for his Gujarati debut with the film Congratulations which features him as a pregnant man. In an exclusive chat with Hindustan Times, the actor talks about working on the films, recalls some of the milestone films in his career, and a few anecdotes from his childhood. (Also read: Sharman Joshi would search phonebook for directors and call them for work)
Talking about playing the role of a pregnant man, Sharman said, "Arnold Schwarzenegger played a pregnant man ( in the 1994 film Junior). Ankush Choudhary also played a pregnant man (in 2006 Marathi film Ishhya), I do not know what is the story (of those films). Unfortunately, I have not seen what Riteish Deshmukh (Mr Mummy) and Ankush have done. But, this one (Congratulations) is what Rehan (writer and director Rehan Chaudhary) has written and I was immediately excited about working on it. We got going very quickly."
He added that the film also shows some scientific research in the field. "The film focuses on the entire gamut of pregnancy and the challenges, which are kind of addressed in the film, in a light-hearted manner. Primarily, Congratulations is an emotional, dramatic comedy. It is not a make-believe world, we have some scientific references but it is still a work of fiction which could be a reality very soon. It (the film) ends with a ticker saying that in writing."
Produced by Sharman, Congratulations will release on February 3. The film is not the first time Sharman will act in Gujarati - he has worked in Gujarati theatre earlier - but it is his first film in the language. He said the recent work in Gujarati films inspired him. "In the past 20 years, there has been some great work mostly by youngsters. Abhishek Jain to Krishnadev Yagnik and Pratik Gandhi have all done such fine work and now we hope to join hands and take the journey forward."
Asked about the best part of working on the film, Sharman said, "The best part of working on it was that I could put on weight. I had to be pregnant, so I was supposed to put on weight, but I got carried away, and that was not a good thing. It was actually embarrassing, the weight I put on in just two months. But, it was for the film, so it was worth it. I was able to return to my normal weight soon enough and towards the end of the shooting, I had started slimming down."
Reminded that Rang De Basanti and 3 Idiots were path-defining films of his career, Sharman recalled some of the memorable responses to those movies. "Those films were very important for me and my career. I got the exact kind of work that I was hoping to get. They gave me great creative satisfaction. Also, through films such as 3 Idiots and Rang De Basanti, I discovered how powerful our films are, apart from being entertaining, they impact how people look at things."
He added, "After 3 Idiots, parents have come up to me and told me personally 'I used to be strict with my children' and how they changed their behavior after watching the film. They started being a little easier. Many professionals have told me that they were inspired from 3 Idiots to changed track and start afresh in a profession that they wanted to. That was very gutsy." He then recalled how R Madhavan's confrontation scene with his father in 3 Idiots remains one of the most inspiring ones. "That encompasses all the emotions of those individuals who came up to me. Their love for what they want to do is stunning. To see and realise that (is amazing)."
Sharman also recalled he was happy and proud when he was told by a film festival director about the smile Hindi films bring to faces. "Once, I went for a film festival in Russia and the festival director took me out for coffee. She told me 'do you know why all these faces that you see have a serious, intense, or anxious expression?' When I asked her the reason, she said 'Most of the films that come here are very political, intense kind of subjects. And, overall Hindi, films add that light-hearted entertainment quotient. They bring smiles' to the audiences."
Most recently seen in films such as Mission Mangal and Mera Fauji Calling, currently, he is the host of the sports entertainment show WWE Super Dhamaal. "WWF is what we knew as kids. I was a big fan of WWF, I'd never miss an episode. Then years passed by and Sony Sports Network came to me with this offer (to host the show WWE Super Dhamaal). I was excited, of course, I had lost touch with WWE. I caught up on various videos to get updated with it."
Recalling the time when he was a WWF fan, Sharman said, "Yes, we used to play with the cards, and Hulk Hogan was my favourite. I completely believed it was a real fight happening. Then, I realised it is not, but I was hooked on to it." Asked if ever had fights with siblings or friends the way WWF showed, the actor added, "My sister was too much of a bookworm, so, never at home. (And with friend), the norm for staying over at a friend's is a current day. In my days, parents were careful. By the time we grew up and had that permission, we realised it is not real."