Slow review: This raw, intimate study of asexuality resists easy resolution
Jan 30, 2023 01:52 PM IST
HT at Sundance | Slow review: Lithuanian director Marija Kavtaradze's sophomore feature is powered by two resonant performances from Greta Grinevičiūtė and Kęstutis Cicėnas.
A lot of talk on Marija Kavtaradze's Slow seems to have stemmed from the fact that the Lithuanian romantic drama has a languid pace. Placing this limitation of time is not entirely valid: how else do you tell a story that is a microscopic study of a relationship with limitations? Given its distant title, the film neatly earns its intimate revelations one by one. Here is a director who is patiently inviting you to step back and fall in sync with the development and urgency of a platonic bond that turns romantic. (Also read: Passages review: Ira Sachs' relationship drama dazzles and frustrates)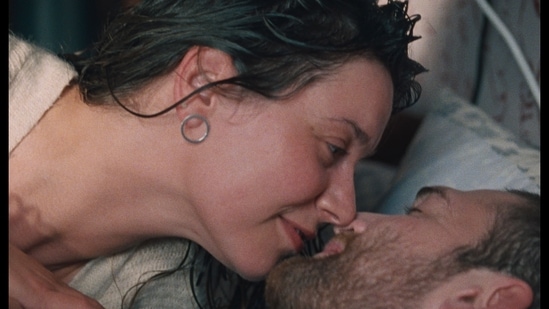 Slow revolves around Dovydas (Kęstutis Cicėnas), a sign language interpreter who comes to assist a contemporary dancer named Elena (Greta Grinevičiūtė). After their first session with the students, Dovydas asks her out and Elena agrees. Their connection is not laced, thankfully, with an awkward meet-cute setup, but with instantaneous reaction and familiarity. "I had this strange feeling that I had known him all my life," is what she would say of this moment. Then, Dovydas reveals that he is asexual- in a moment of tender desperation. "I'm not attracted to anyone sexually, I never have been. I like you, that's why I'm telling you," he tells her. She is taken by surprise, and reacts with a streak of confusion. Love is not enough to sustain this relationship. What else will it take?
Debuting at the World Cinema Dramatic Competition at the 2023 Sundance Film Festival, Slow ultimately won Marija Kavtaradze the Directing Award. Her film establishes early on how it is not interested in exposing the topic of asexuality for serving the narrative. Kavtaradze, who also wrote the screenplay, fashions her sophomore feature through a chain of contrasting interactions in public and in private. Even if they are physically attracted to one other, Elena cannot find the resolution with Dovydas, which gifted cinematographer Laurynas Bareiša captures beautifully in her dance rehearsals. We spend a lot of time simply following their conversations, where communication sometimes consists of just a closeness of their bodies, or an acknowledgement in a room full of people. These small moments are a wonder to behold.
Greta Grinevičiūtė and Kęstutis Cicėnas are compelling together- complementing each other's remove and physicality with carefully constructed moments. Together they elevate the screenplay that becomes a tad bit melodramatic by the second half. The pace is deviously languid, but there's an operatic sense of control to several of the long sequences that play out with raw emotional transparency. More than curiosity, Kavtaradze's gaze acknowledges the reach of her characters and respects them from a distance. The distance is important to acknowledge Dovydas's asexuality, but never concerns itself to change him because of the relationship. These two people try, and want to make this relationship work.
The intimacy exudes most when they are outside- and becomes markedly obvious when they are with each other. A sex scene where Dovydas musters up the courage to stop Elena after a point is brilliantly choreographed. Predictable as it gets, Slow bends more towards ideas than disciplined juxtaposition of dramatic moments. The gaze stays uniformly focused on the stimulating wavelength of their relationship- focusing on Elena's understanding, and her experiences. Even if she wants to continue with Dovydas, how will this love span out in a language without passion?
Slow offers a groundbreaking representation of asexuality devoid of any narrative clichés and loud metaphorical humour. It frustrates time and again, and that's exactly the point. Marija Kavtaradze conjures a small, molecular world that exists in close proximity and convention, yet perceptive to the uncompromising powers of love and what it means to be understood. Let it take time.
"Exciting news! Hindustan Times is now on WhatsApp Channels
Subscribe today by clicking the link and stay updated with the latest news!"
Click here!
Get more updates from
Bollywood
,
Hollywood
,
Music
and
Web Series
along with
Latest Entertainment News
at Hindustan Times.