Run Baby Run review: RJ Balaji delivers an effective thriller with good twists
Feb 03, 2023 12:08 PM IST
Run Baby Run review: RJ Balaji has managed an easy transition from comedy to thriller with this captivating new film.
Actor-filmmaker RJ Balaji, who has quietly charted his own path with films with a good dose of comedy, steps out of his comfort zone to attempt a new genre in Run Baby Run. It works as an effective thriller that gets the job done. What really makes Run Baby Run unique is that it's not a hero-driven thriller where he's doing all the heavy lifting and solving the mystery single-handedly. It's a thriller that's powered by some interesting characters and RJ Balaji, who plays the central character, just happens to be one of them.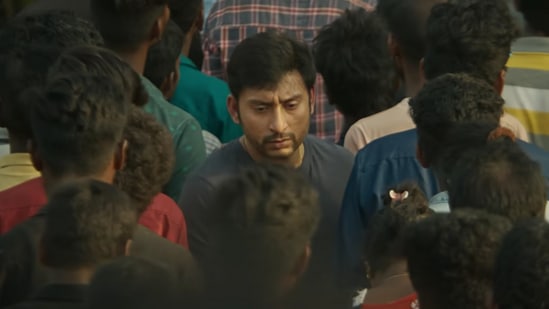 The film opens with the suicide of a young medico Sophie (Smruthi Venkat) falling to death from her college building. Cut to the next shot, we are introduced to RJ Balaji (Sathya), who works in a multinational bank and is days away from getting married to Isha Talwar. As he's busy with wedding shopping one day, he finds out that an unknown woman has sneaked into his car and he's forced to bring her home. Upon inquiring, he learns that the girl is Thara (Aishwarya Rajesh), who reveals that her life is in danger and pleads to take refuge in his home for a few hours until her guardian arrives. After much contemplation, Sathya allows Thara to stay in his home, only to find her lying dead in his bathroom the next day. Sathya tries to dispose of Thara's body but he finds himself caught up in a messy situation.
This is a confident transition for RJ Balaji, who has so far safely played to his strengths, taking up comedy roles even when he was directing. He shines in this relentless thriller that never wastes a second and keeps the thrill alive till the last minute. The story kicks in from the opening frame and the proceedings keep you pinned till the very end. This is one of the biggest strengths of the film. Unlike most thrillers, Run Baby Run works to a large extent because it has multiple suspects and it succeeds in shifting the focus of the viewer from one suspect to another from time to time throughout the film.
Balaji, who has always been self-aware about his limitations as an actor, plays his part competently. It's a believable performance of an ordinary guy stuck in an extraordinary situation and the story follows his efforts to free himself. Any other actor in his shoes would've expected his character to turn heroic at some point but thankfully RJ Balaji doesn't fall in that image trap. The film definitely needed a better antagonist and a stronger twist but that's just a minor grouse in an otherwise mostly compelling thriller. The supporting cast does a decent job in playing their respective parts fittingly.
"Exciting news! Hindustan Times is now on WhatsApp Channels
Subscribe today by clicking the link and stay updated with the latest news!"
Click here!
ott:10