Vijay's fans defend Varisu as woman's video calling it 'regressive, problematic' goes viral: 'There are many positives'
Jan 13, 2023 03:42 PM IST
A viral video features a woman slamming Vijay's Tamil film Varisu, calling it a 50-year-old problematic idea on which films shouldn't be made. Many have come out in support of Vijay and defended the film.
Many of Vijay's fans and other moviegoers have reacted to a viral video featuring a woman who slammed Vijay's Varisu and called the film highly problematic and regressive. In a video clip that has gone viral on social media, the woman can be seen talking about how Varisu, in the guise of a family drama, tries to sell the 50-year-old idea of women should bear everything for the sake of a family. Also read: Varisu movie review: Predictable family drama that works only due to Vijay's presence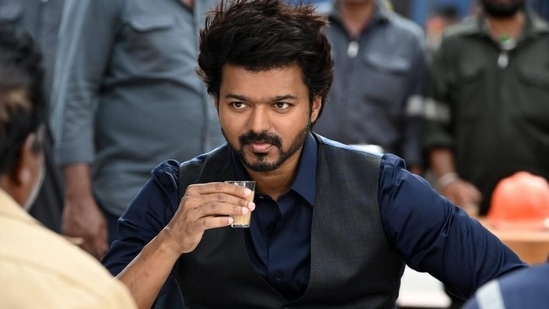 Directed by Vamshi Paidipally, Varisu is the story of the youngest son of a family returning home to take over the reins of the family business after he learns that his father is diagnosed with advance-stage cancer. A section of the audience has panned Varisu for its portrayal of the women characters.
Stay tuned with breaking news on HT Channel on Facebook.
Join Now
In the clip on Twitter, a woman can be seen talking about not liking anything in the film. She says, "A film talking about the importance of family is fine. It doesn't mean one has to accept every wrong that happens in the name of family. Again, here's a film that says it's alright for women to bear everything for the sake of a family."
She goes on to add how the film thinks it's alright for a husband to have an extramarital affair and bear all that for family's sake. "This is just a modern take on a 50-year-old problematic idea. In this generation, it's extremely wrong for a film to expect audiences to accept that women should bear everything when it comes to family. Such films shouldn't be made," she added.
Talking about the family angle, she said, "This film has no values. A family needs to be democratic. Films are not talking about this angle at all. We only keep seeing films that expect women to accept their state and live."
The video received mixed reactions from the moviegoers. A fan wrote, "After hearing all the things she said I have a point point to make here. In this movie Vijay never said or influence any women to stay in their home, in fact he requests his mom to come with him to lead a independent life, but she decides to stay in with the family." Another commented in Tamil, "Nobody forces anything on the women in the film. Even with the SIL character, Vijay says the family will support her if she wants divorce. He encourages her to go for it." One more comment read: "This is one of the valid point. But there are many positives around the film. Where Vijay leaves the house because of his toxic father. Vijay telling Jayasudha to stay independent and supporting Sangeetha for her divorce matters."
A lot of people also agreed to the woman's point of view. One user wrote: "She points out that the movie supports patriarchy and misogyny in a polished way. Instead of coming up with an answer how the movie doesn't, these fans are abusing her (sic)." Another user wrote: "She's my hero (sic)." One more user wrote: "The way she speaks might be offending for fans, but she is spitting facts (sic)."
Varisu also stars Rashmika Mandanna, Jayasudha, Shaam, Srikanth and Prakash Raj in key roles.