Shiv Thakare throws water on Priyanka Choudhary during Bigg Boss task; she says 'chorungi nahi'
Feb 01, 2023 04:03 PM IST
Bigg Boss 16: In the upcoming episode, Shiv Thakare threw water on co-contestant Priyanka Choudhary with a lot of force. She asked him not to throw water in her eyes in task. She lost her calm and shouted at the top of her voice.
Bigg Boss will give the prize money task to the housemates in the upcoming episode, to get back their prize money. The house got divided into two teams. One team consisted of Shiv Thakare, Nimrit Kaur Ahluwalia and MC Stan. The other team had Shalin Bhanot, Priyanka Choudhary and Archana Gautam. Shiv threw a bucket of water on rival member, Priyanka to distract her from the task. Priyanka asked him not to throw water in her eyes. Shiv did not pay attention to her requests. In the end, she lost her calm, and shouted 'chorungi nhi tujhe.' Many fans came in support of Priyanka in the comment section of the promo shared by ColorsTV. (Also read: Priyanka Choudhary gets into ugly fight with Shiv Thakare on Bigg Boss 16. Watch)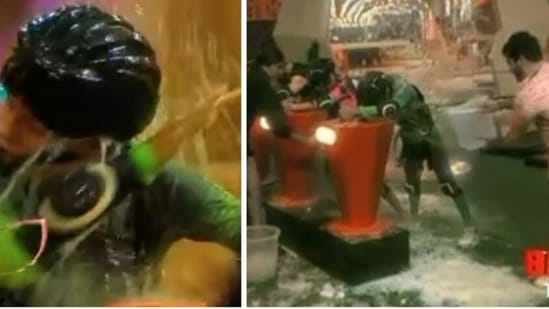 ColorsTv shared the promo on their social media handles with the caption, "Prize money wapis paane ke khatir lagegi ek aur baazi (In order to get the prize money back, how much contestants will suffer)?"
The promo opened with Shiv, Nimrit and MC Stan throwing water on their opponent team members---Priyanka, Shalin and Archana. Then, Shalin said, "Hair remover cream?" as he stood next to podium with red button on it. Nimirt can be heard saying, "Itni problem hai toh chord dena task (If you have so much problem, then don't do the task)." A voiceover in the background, "Prize money paane ki khaatir lagegi ek aur baazi (To win their lost prize money back, they have to pay back a lot)." Shiv mixed detergent powder in buckets filled with water, and trimmed Shalin's hair. Nimrit put a pack of ice cubes inside Shalin's T-shirt.
Moments later, Shiv threw a bucket full of water on Priyanka. Furious Priyanka said, "Aankh ke andar daala hai (You have thrown water inside my eyes)." Shiv said, "Paise humko bhi chaiye bro (Even we want money)." She said, "Kaan ke andar mat daal, nhi chorungi tujhe (Don't put water inside my ears, will not spare you)." Shiv and Nimrit tried to pull her hands from the red buzzer. Priyanka shouted, "Bigg boss ye mera haath bhi hata rahe hai (Bigg Boss, now they are trying to pull my hands also)." Archana immediately said,"Ye jaisa kar rahe hai, inko double milega (Whatever they are doing, they will get the same in double amount)."
Reacting to the clip, one person commented, "Why are they removing Priyanka's hand forcefully?" Another fan wrote, "Stay strong Priyanka." Other person commented, "Priyanka will definitely going to win this season, well done Priyanka." "Nimmo aunty is doing really wrong, she is forcefully removing Priyanka's hand from buzzer." "Hadd hogai shiv ki ab insaaniyat ki baat karte hai aise log (It's too much now, people like Shiv talks about humanity)", added one.
Bigg Boss 16 airs Monday to Friday at 10pm, and on Saturday and Sunday at 9pm on ColorsTV. The show is hosted by actor Salman Khan. Shiv Thakare, Sumbul Touqeer Khan and MC Stan are nominated for this week's eviction.