Elon Musk shares how The Simpsons had 'predicted' his takeover of Twitter in 2015
Nov 27, 2022 04:38 PM IST
Elon Musk tweeted on Sunday that the popular sitcom The Simpsons predicted how he would take over social media platform Twitter back in 2015.
Twitter's new owner, businessman Elon Musk tweeted on Sunday that the popular sitcom The Simpsons had predicted he would take over the social media network back in 2015. Elon shared a still from episode 12 of the show's 26th season, which aired in 2015. While the still itself does not refer to Elon, but the episode did feature a cameo by him and also hinted at him 'changing a birdhouse'. Twitter has often been attributed to as a bird app or birdhouse owing to its name and bird logo. Also read: The Simpsons needles Trump ahead of 100 days in office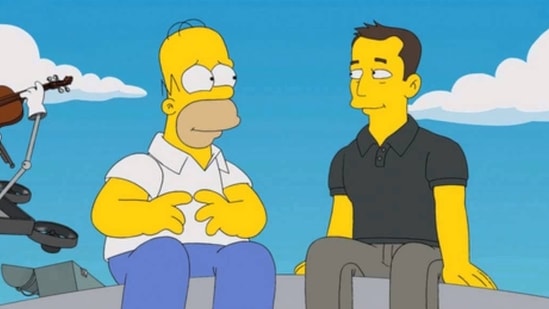 Taking to Twitter on Saturday, Elon shared a picture showing Lisa Simspon feeding some bird seeds to some birds around a birdhouse, which has the words 'Home tweet home' written on it. "Simpson's predicts I buy Twitter S26E12," Elon wrote alongside it.
The episode, titled The Musk Who Fell to Earth (a play on the popular 1963 novel The Man Who Fell to Earth), sees Elon Musk arriving in Sprinfield and helping the show's protagonist Homer Simpson revolutionise the nuclear power plant in the city. It aired on January 25, 2015. The Twitter reference was at the beginning of the episode when Elon first arrives to Springfield in a spaceship. As he announced himself, Homer attacks him only to be told by daughter Lisa, "Dad, no! Elon Musk is possibly the greatest living inventor."
The scene then shows Elon has transformed Lisa's birdhouse into a new state-of-the-art one which draws several birds. "I guess humanity wants its change one birdhouse at a time," Lisa says as Elon Musk re-boards his ship.
While the mention to Twitter is only subtle, many fans are convinced the show actually inspired Elon to buy the social media platform. One person tweeted, "Personally, I think Elon bought Twitter because he saw it on an episode of The Simpsons. Change my mind." Elon bought Twitter earlier this month in a landmark $44 billion deal.
Others also referred to The Simpsons' tendency to predict so many real-life incidents years before they occur. "Simpsons is the Nostradamus of our times," read one tweet. The Simpsons, which has been running since 1989, is the longest running sitcom in history. The show has known to predict several pivotal pop culture moments like Donald Trump's presidency, Walt Disney and Fox's merger, Lady Gaga's Superbowl performance, and even the premiere of Matrix 4.