Krushna Abhishek confirms working 'soon' with Kapil Sharma, says he misses him: People tell me he has an attitude now...
Jan 25, 2023 10:23 PM IST
Krushna Abhishek spoke about working with Kapil Sharma 'soon'. He also said that he missed Kapil.
Krushna Abhishek has heaped praises on Kapil Sharma and revealed that he will work with the comedian soon. In a new interview, Krushna also lauded The Kapil Sharma Show, of which he was previously a part. Krushna also said that people asked him not to join Kapil's show claiming that he had an 'attitude'. Krushna also said that he works for money and wants a lot of it. (Also Read | Krushna Abhishek on returning to The Kapil Sharma Show)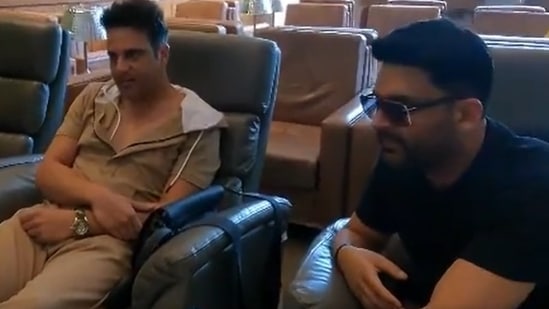 Krushna, who was a part of The Kapil Sharma Show, didn't return for the third season last year. Among the regular ones, Kapil Sharma was seen as Kappu Sharma and Sumona Chakravarty as his wife Bindu. Chandan Prabhakar, Kappu's friend Chandan and Kiku Sharda were also seen in the third season. The show returned on Sony TV on September 10 last year.
Speaking with Indian Express, Krushna said, "I love Kapil, I love the show. He is such a great talent, he is like a friend and brother, who has taken such good care of me over the years. There were people who would tell me he has changed, attitude aagaya hai (he has an attitude), don't join his show. But let me tell you, the man is such a hard-working artist. The way he creates comedy does stand up, and takes the team along, it's not an easy job. For us, after doing this for years, it really becomes difficult to create new content. You tend to ask yourself 'ab naya kya (what can be new)?' However, that man, and that show is doing something different each time and making people laugh. It's a great show."
Talking about Sony TV and Kapil, Krushna added, "I really want to work with him, and I am sure we will work out something. I really respect Kapil, and I think he will say the same thing about me. Hum bohot jald saath mein aayenge (We will come back together very soon). I really miss him and the team. I love Kiku Sharda so much. They are such wonderful people. Even when things did not work out with Sony, they are also my family. I have been on the channel for so long, it's like my own home. As they say, 'subah ka bhula agar shaam ko ghar aajaye, toh usse bhula nahi kehte'. I will also be back then."
Last year, when Krushna was asked about him not being part of the show, he had told reporters, "Koi nahi, hum aaj raat ko jaare hain Australia saath mein. Kapil aur main pata nahi kya afwaahe hain ki aisa hogaya waisa hogaya. Koi issue nahi hai. I love him, he loves me. Mera bhi show hai wo, I will be back again (Nothing, we both are leaving together for Australia tonight. Don't know what these rumours are about me and Kapil. There is no issue. I love him, he loves me. It is my show as well and I will be back again)."